A dramen staff is obtained by cutting a dramen branch (obtainable by cutting a dramen tree) with a knife. 31 Crafting is required to make it. It can be used by players who have completed the Lost City quest and allows players to enter Zanaris by entering a shed in the Lumbridge swamps while wielding it. If you have completed the quest and lost the staff, you can cut as many branches as you want from the dramen tree without being attacked by the tree spirit. More than one can be made both during and after the quest. (Note: It cannot be made using the Assist System.)
Players doing Lunar Diplomacy can upgrade it to a lunar staff, and it will have the same effects.
The Dramen staff is also required for fairy ring teleportation if Fairy Tale III - Orks Rift is not completed. After the quest the staff has very little, if any, use (assuming the player has completed Lunar Diplomacy).
The dramen staff has nearly the same appearance as a normal staff.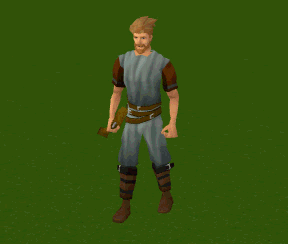 Combat Stats
Skill requirements
None
Class
Slot
Magic
Weapons
Main
Off
Damage
-
-
Accuracy
110
-
Style
Spell-casting
Attributes
Armour
0
Life points
0
Prayer
0
Style bonuses

0

0

0

Attack speed
Average

Interval: 3.6 seconds

[view] • [talk]
Disassembly
Edit
For a short time after the Evolution of Combat, the dramen staff looked like the staff of air before its graphical update, and also supplied runes. This has been patched.
Rune-saving
Rewards
Talismans
Other