Dragonstone bakriminel bolts
Release
22 January 2018 (Update)
Members
Yes
Quest item
No
Tradeable
Yes
Equipable
Yes
Stackable
Yes
Disassembly
? (edit)
Value
612 coins
High alch
367 coins
Low alch
244 coins
Destroy
Drop
On death
Reclaimable
Reclaim: 238
Sacrifice: 952
Exchange

1,593

coins (info)
Buy limit
-
Weight
0 kg
Examine
Dragonstone tipped bakriminel bolts.
[FAQ] • [doc]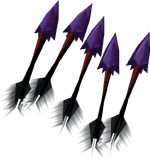 Dragonstone bakriminel bolts are Bakriminel bolts with dragonstone bolt tips attached to them. Creating dragonstone bakriminel bolts require level 97 in Fletching, and grant 24.8 experience per bolt fletched.
They are to be enchanted via the Enchant Bakriminel Bolt (Dragonstone) spell by a player with level 97 Magic. This creates enchanted dragonstone bakriminel bolts, which are a superior version of enchanted dragonstone bolts.
Combat Stats
Requirements
Tier
90
85
Class
Slot
Attributes
Ranged
Armour
0
Life points
0
Weapons
Main
Off
Prayer
0
Damage
816
-
Damage reduction
Accuracy
-
-
PvM:

0%

PvP:

0%

Style
Bolts
Style bonuses
Range
-

0

0

0

[FAQ] • [doc]
Gems
Jewellery
Enchanted jewellery
Fletching