Dragonstone armour is a set of level 50 hybrid armour released on 11 June 2013. Pieces of this set can be obtained as a reward from either Triskelion Treasures (unlocked using the Crystal triskelion) or as a very rare reward from the crystal chest. While Triskelion Treasures is for members only, the components of this set can be traded to and worn by free players as well. The armour consists of 5 pieces.
Components and bonuses
Edit
Hybrid Item

Attribute
Style bonus
Price
Dragonstone helm
107
0
0
-
-
-

4,756,480

Dragonstone hauberk
123
0
0
-
-
-

10,765,698

Dragonstone gauntlets
26
0
0
-
-
-

4,176,210

Dragonstone greaves
117
0
0
-
-
-

5,110,917

Dragonstone boots
26
0
0
-
-
-

4,421,943

Totals
399
0
0
-
-
-

29,231,248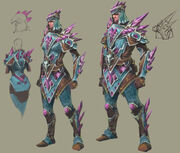 A server-wide message is sent out when someone finds a piece of this armour.
Similar to Third-age armour, dragonstone armour is typically worn for cosmetic appearance and to show off wealth, rather than to use in combat, as there are other armour sets with similar stats that are much cheaper.
Free-to-play
Members
Ad blocker interference detected!
Wikia is a free-to-use site that makes money from advertising. We have a modified experience for viewers using ad blockers

Wikia is not accessible if you've made further modifications. Remove the custom ad blocker rule(s) and the page will load as expected.