The Dragonkin bust is an item that was listed by Jagex on eBay during GameBlast 2016, which raised money for the British charity SpecialEffect. The auction was open for three days, with the final bid offering £420.[1]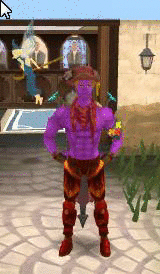 It allowed one account to transform into a non-player character of their choice (decided before the item is awarded) for two weeks, after which it was removed. The size of the NPC is limited to 2x2 squares due to movement issues, and cannot be used in PvP areas. After the NPC is chosen, it cannot be changed.
The Dragonkin model is fully functional in that it can walk around; however, if the item is used twice in a row, the player is able to fly as a Dragonkin as well.
References
Edit
Ad blocker interference detected!
Wikia is a free-to-use site that makes money from advertising. We have a modified experience for viewers using ad blockers

Wikia is not accessible if you've made further modifications. Remove the custom ad blocker rule(s) and the page will load as expected.