Dragonfire shield
Discuss

78
22,529pages
on this wiki
The dragonfire shield is an anti-dragon shield that has been fused with a draconic visage. Requiring 75 Defence to equip, it is one of the most powerful shields in RuneScape, second only to the chaotic kiteshield in overall defensive capability. Additionally, it has the highest strength bonus of any off-hand item in the game, surpassing even the dragon defender by 1 point.
Much like the anti-dragon shield from which it is made, the dragonfire shield provides partial protection from dragonfire attacks; however, it also provides the same partial protection from the ice breath of skeletal wyverns that an elemental shield or equivalent would offer. The shield builds charges and grows stronger as it absorbs dragonfire and ice breath, and it can unleash its charges in devastating blasts of dragonfire.
The dragonfire shield cannot be lent. Additionally, it can only be traded when completely uncharged.
Creation
The dragonfire shield is created by attaching a draconic visage to an anti-dragon shield at any anvil. The process requires 90 Smithing and a hammer, giving 2,000 Smithing experience and an uncharged dragonfire shield. Players who do not have the required Smithing level to make the shield may seek help through the Assist System; alternately, Oziach in Edgeville will smith the shield for any player at a cost of 1,250,000 coins.
The draconic visage is dropped by most high-level dragons, including black dragons, iron dragons, steel dragons, mithril dragons, frost dragons, skeletal wyverns, King Black Dragon and the Queen Black Dragon. However, green dragons, blue dragons, red dragons, bronze dragons, brutal green dragons, and all baby dragons do not drop the draconic visage.
For a time until an update on 16 June 2009, the shield itself was a possible drop from other players on PvP Worlds. Additionally, between 4 January and 11 January 2012, the draconic visage could be obtained from the Barrows activity.
Dragonfire charges
Charging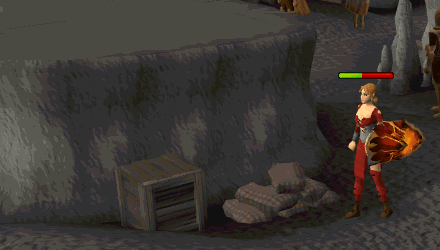 As it absorbs the dragonfire attacks of adult dragons, the dragonfire shield builds charges. The shield can also be charged by absorbing the breath attacks of skeletal wyverns, although it will still discharge dragonfire. Each breath attack gives the shield one charge, and each charge increases its melee, Ranged, and Summoning defensive bonuses by +1. The shield can hold up to 50 charges, giving a total bonus of +50 to melee, Ranged, and Summoning defences, in addition to the shield's base defence bonuses. The Inspect option, while the shield is in the inventory, can be used to check its current number of charges. When fully charged, the dragonfire shield surpasses most shields in the game for melee and Ranged defence, although the fully charged crystal shield provides higher Ranged defence, a blessed spirit shield, spectral spirit shield and arcane spirit shield provides one more point to Crush defence, and a divine spirit shield and elysian spirit shield have 3 more points of crush defence. Also, the chaotic kiteshield has better defensive bonuses in all melee defence and ranged defence, but all of them lack the strength bonus of the dragonfire shield.
A quick and efficient way to charge an uncharged dragonfire shield is to be attacked by a metal dragon's long-range dragonfire attack, which is not only quicker than a chromatic dragon's attacks, but also will not include melee attacks. Use of food or an antifire potion is recommended due to the fact that 50 dragonfire attacks, even significantly weakened by the dragonfire shield, can build up and cause substantial damage. Food isn't necessary with an antifire potion. Two rooms in the northwestern Chaos Tunnels are particularly effective for this purpose, as they are a multicombat area and contain multiple bronze dragons, allowing for fast charging.
Another very fast and efficient way of charging the shield is by taking it to the lair of the Queen Black Dragon since her fire-breath attack is very powerful and can charge the shield from just one attack. Be wary though as you have a high risk of dying and possibly losing your items. This is the fastest method for charging the Dragonfire shield currently, but requires a Summoning level of at least 60 to enter the Queen Black Dragon's lair.
Additionally, there are several ways to charge a dragonfire shield in complete safety.
A steel dragon (POH) in a player-owned house's Treasure Room. If not using another player's POH, it costs 10,000,000 coins (10M) to build, and requires 95 Construction.
A pit iron dragon in a player-owned house's Dungeon Pit. If not using another player's POH, it costs 7,500,000 coins (7.5M) to build, and requires 97 Construction and completion of Love Story.
Elvarg in Dominion Tower, with 110 combat, Dragon Slayer and at least 19 other quests completed.
Discharging
During combat, the dragonfire shield can expend one charge to unleash a blast of dragonfire at one target, which can hit approximately 250 damage. This attack can only be used once every two minutes, and each expended charge reduces the shield's melee, Ranged, and Summoning defensive bonuses by one. The dragonfire attack follows the standard rules for dragonfire; it will be less effective against a target that has resistance to dragonfire, such as a player that used an antifire potion or super antifire potion and/or an anti-dragon shield or dragonfire shield. Furthermore, the dragonfire attack will not work against chromatic dragons, skeletal wyverns and some boss monsters, although metal dragons are vulnerable to it.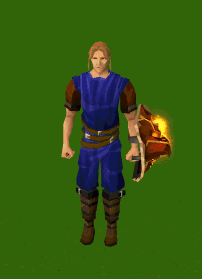 The dragonfire attack can be used at range (up to 13 squares away) and over obstacles, after which the user will initiate a normal attack with their equipped weapon, if possible. Despite dealing Magic damage, the attack is unaffected by standard modifiers for Magic attacks (such as the user's Magical accuracy, the target's Magical defence, and Magic damage boosts). The attack gives experience to Defence, Constitution, and Magic.
Players can drain all of the dragonfire shield's charges at once by right-clicking the shield in the inventory and selecting Empty. This will release all of the shield's charges in a harmless burst. This function is useful when selling or trading the shield, as it can only be traded when completely uncharged.
Also, if dropped on death in an unsafe environment, when recovered the dragonfire shield will be completely uncharged. This is not recommended as you may lose the shield.
Bonuses
When bought or smithed, the shield will be uncharged. The shield can be charged with dragonfire to increase some of the defensive bonuses by +1 per charge.
Uncharged
Fully charged

Combat Stats

| Class | Slot |
| --- | --- |
| Unknown edit | |

Weapons
Main
Off
Damage
-
-
Accuracy
-
-
Type
-
-
Attributes
Armour rating

0

Life bonus

+0

Prayer bonus

0

Critical bonuses

0%

0%

0%

Compare item

A player wielding an uncharged dragonfire shield

[view] • [talk]

Combat Stats

| Class | Slot |
| --- | --- |
| Unknown edit | |

Weapons
Main
Off
Damage
-
-
Accuracy
-
-
Type
-
-
Attributes
Armour rating

0

Life bonus

+0

Prayer bonus

0

Critical bonuses

0%

0%

0%

Compare item

A player wielding a fully charged dragonfire shield

[view] • [talk]
Trivia
In July 2010, the shield's appearance was updated so that both sides of the shield, the parts that were not covered by the visage, were orange. Previously, one side of the shield was orange, and the other side was the same colour as the visage.
Depending on current prices, players can smith dragonfire shields for profit. Currently, buying a draconic visage and anti-dragon shield, and smithing and selling a dragonfire shield, results in a profit/loss of -23,820 coins (amounting to a profit/loss of -11.91 coins per Smithing experience point).
An uncharged dragonfire shield is even slightly weaker than an Adamant sq shield, so it is highly recommended that dragonfire shields are charged before any high-level combat.
Dragonfire shields will only stack in the bank when completely uncharged. Shields with any number of charges will each take up one bank space, unless they have identical numbers of charges.

File:DFS.png

The dragonfire shield as of 6 March 2012.

When casting a Dragonfire charge, if it hits, it will cause a Magic attack on the foe and give Magic XP, despite dragonfire from chromatic and metallic dragons not having any type of combat style for their dragonfire. Players must remember that the special will not give Magic XP when used against another player!
It is confirmed that a Dragonfire Shield will NOT be charged when hit by the blast of another dragonfire shield. This is most likely due to the fact that the shield is charged initially by the direct breath of a dragon.
While wielding the Polypore staff, you are unable to use the Dragonfire shield's special attack. It is unknown whether or not this is intentional.
The special attack is commonly used by Summoning tanks, as the special has a useful attack for PvP.
The dragonfire shield's appearance was updated on 6 March 2012 along with the armour graphical rework.
On 6 March 2012 the Dragonfire shield's graphic was updated. There was a minor glitch with the uncharged version of the shield where it would float freely from the player in any movement. This has since been fixed.

File:Dfscolorglitch.png

A Dragonfire shield glowing blue, compared to the normal orange.

As of 7 March 2012, there is a bug in which the "fire" in the charged Dragonfire shield retains the blueish colour after completing the Nature Spirit's grotto event in Temple Trekking, this is only visible for the player wielding the shield.
There is currently a bug when attempting to use the Dragonfire shield's special attack while auto-casting a spell with a staff. The character will stop auto-casting and will essentially freeze in place, unable to cast spells, and will not activate the special either. Un-equipping and re-equipping the staff seems to be the only way to remedy this issue.
There is currently a glitch when dancing on the dance-floor of a citadel. There will be a ball of fire around the character's left hand.
There is a glitch when a player fails to pass the log crossing west of the north bank near the lodestone in Ardougne, a ball of fire is seen when the player swims back to safety.