Ad blocker interference detected!
Wikia is a free-to-use site that makes money from advertising. We have a modified experience for viewers using ad blockers

Wikia is not accessible if you've made further modifications. Remove the custom ad blocker rule(s) and the page will load as expected.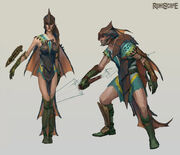 Dragon Rider armour is a level 70 all-class armour set that gives the highest Prayer bonus for any items in each of its armour slots. The boots and gloves are dropped by the King Black Dragon, while the helm, body, chaps and cape are dropped by Celestial dragons after completing the grandmaster quest One of a Kind. A Dragon Rider kit is used to upgrade the gloves and boots to their superior versions.
Stats and bonuses
Edit



Item




Level

Mainhand info

Off-hand info

Attributes

Strength bonus

Price


Style

Dmg
Acc

Style

Dmg
Acc
Dragon Rider helm
70
-
-
-
-
-
-
196
0
7
-
-
-

418,014

 [view]
Dragon Rider amulet
N/A
-
-
-
-
-
-
0
0
10
30
30
30

500,000

Dragon Rider body
70
-
-
-
-
-
-
226
0
10
-
-
-

283,745

 [view]
Dragon Rider chaps
70
-
-
-
-
-
-
216
0
7
-
-
-

215,293

 [view]
Dragon Rider cape
70
-
-
-
-
-
-
29
0
6
-
-
-

222,729

 [view]
Dragon rider gloves
60
-
-
-
-
-
-
36
0
2
-
-
-

1,537,783

 [view]
Dragon rider boots
60
-
-
-
-
-
-
36
0
2
-
-
-

3,201,179

 [view]
Totals
70
-
-
-
-
-
-
765
0
44
30
30
30

5,878,743

Superior Dragon Rider gloves
70
-
-
-
-
-
-
49
0
3
-
-
-

2,002,156

Superior Dragon Rider boots
70
-
-
-
-
-
-
49
0
3
-
-
-

3,665,552
King Black Dragon
Celestial dragons
Heart of Gielinor