Dragon platelegs (or)
Discuss

0
22,489pages
on this wiki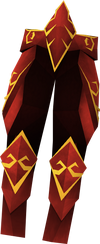 The dragon platelegs (or) are regular Dragon platelegs combined with Dragon platelegs/skirt ornament kit (or). Dragon platelegs (or) look similar to items that are gold trimmed. Dragon platelegs (or) cannot be traded, but it is possible to remove the ornamental kit from the legs to get the platelegs and the kit apart, which are tradeable. The dragon platelegs are part of the Dragon armour (or) set.
The bonuses of the dragon platelegs (or) are the same as those of regular dragon platelegs. These platelegs are a symbol of wealth in RuneScape. They are avalible in G.E.
Combat Stats

| Class | Slot |
| --- | --- |
| Melee | |

Weapons
Main
Off
Damage
-
-
Accuracy
-
-
Type
-
-
Attributes
Armour rating

249

Life bonus

+1080

Prayer bonus

0

Critical bonuses

0%

0%

0%

Compare item

A player wearing the dragon platelets (or)

[view] • [talk]
On 31 January 2012 there was a different version of the Platelegs on the Grand Exchange available to both Members and Free Players. It had looks similar the what the Mercenary warrior wears. This is a glitch due to the fact the Dragon Platelegs (or) are an untradeable item and can only be sold when the piece is broken into the ornament kit and dragon platelegs. On 1 February 2012, the different version of the platelegs was removed. The reason is currently unknown.
Weapons

| | |
| --- | --- |
| Melee | Hatchet • Pickaxe • Battleaxe • Claw • Dagger • Halberd • Mace • Longsword • Scimitar • Spear • Two-handed sword |
| Ranged | Arrows • Arrowheads • Darts • Dart tips • Crossbow • Off-hand crossbow • 2h crossbow |
| Off-hand | Battleaxe • Claw • Dagger • Mace • Longsword • Scimitar • Defender |

Armour

| | |
| --- | --- |
| Sets | Plate armour set (lg) • Plate armour set (sk) • Chain armour set (lg) • Chain armour set (sk) |
| Set pieces | Boots(dragonbone) • Gauntlets • Helm • Full helm (sp) (or) (dragonbone) • Chainbody • Platebody (sp) (or) (dragonbone) • Platelegs (sp) (or) (dragonbone) • Plateskirt (sp) (or) (dragonbone) • Square shield (sp) (or) • Kiteshield (sp) (or) |

Corrupt dragon

| | |
| --- | --- |
| Armour | Helm • Square shield • Chainbody • Plateskirt • Platelegs |
| Weapons | |

Lucky dragon equipment
Other

Culinaromancer's gloves 9(dragonbone) (Dragon-coloured gloves) • Broken axe • Ruined lump • Ruined shard • Ruined slice • Shield left half • Shield right half • Dragon limbs