Ad blocker interference detected!
Wikia is a free-to-use site that makes money from advertising. We have a modified experience for viewers using ad blockers

Wikia is not accessible if you've made further modifications. Remove the custom ad blocker rule(s) and the page will load as expected.
The dragon platebody (or) is an ornamental version of the dragon platebody. It may only be made by using a dragon platebody ornament kit (or) on a regular dragon platebody. This does not confer any extra bonuses and is solely for aesthetic purposes.
Ornamental kits and the regular dragon platebody may be recovered from the assembled version by selecting the option to split the two from the assembled piece. The ornamental platebody may only be obtained by attaching an ornamental kit onto a regular dragon platebody.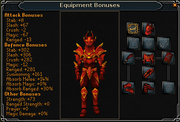 Combat Stats
Requirements
60
Class
Slot
Melee
Tier
Type
60
Tank armour
Weapons
Main
Off
Damage
-
-
Accuracy
-
-
Style
-
Range
-
Attributes
Damage reduction
Armour
260
PvM:

1.2%

PvP:

3.6%

Life points
0
Style bonuses
Prayer
0

0

0

0

[FAQ] • [doc]
Disassembly
Edit
Tank
Power
Barrows
Minigame
 Sacred clay
Promotional
 Starfury
 Starfury

Treasure Trail

Trimmed
 Black
 Adamant
 Rune
Gold trimmed
 Black
 Adamant
 Rune
Black heraldic
Adamant heraldic
Rune heraldic
Rune god
Dragon
 Ornamental
 Spiked
Dyed
Other
 Bandos robe
 Gilded
 Third-age
Melee weapons
Ranged weapons
Tools
 Hatchet
 Pickaxe
Armour
Rewards
 Gloves
 Defender
Magic equipment
 Battlestaff
 Ward
Other

Treasure Trail

Spiked
Ornamental

Other variants

Dragonbone
Corrupt
Lucky