Dragon gauntlets
Discuss

11
22,502pages
on this wiki
This article is about the Fist of Guthix reward. For the item from the Culinaromancer's Chest, see
Gloves (dragon)
.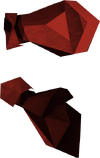 Dragon gauntlets, or worn-out dragon gauntlets, are a reward that can be purchased with tokens from the Fist of Guthix minigame. They are not like Barrows equipment, which degrades in use over time. Instead they come in "charged form" and only lose their charge when the user dies wearing or while carrying the gauntlets, or if the owner uses them on Reggie and asks him to uncharge them. They can be recharged by using the worn-out gauntlets on Reggie and paying him 50 Fist of Guthix tokens. They can only be traded when completely uncharged and require 60 Defence to wear. The stats of the gauntlets only decrease after it has been purposefully worn out or if you die with them on.
These gauntlets used to give the best melee defensive bonuses of any hand equipment. However, with the addition of the Goliath gloves from the Dominion Tower, they no longer do and merely hold the highest defensive bonuses for a non-quest or non-degrading gauntlet.
On 25 March these got a graphical update to be more consistent with the Dragon platebody. The spikes' colour went from ivory to light grey.
Note: On death, they will be uncharged in case the player keeps them. Losing them completely is always a risk.
Note: A good way to earn money while playing Fist of Guthix is collect 300 tokens buy dragon gauntlets, uncharge them and sell them on the Grand Exchange this will currently provide 495 coins per token.
Charged gauntlets bonuses:
Combat Stats

| Class | Slot |
| --- | --- |
| Melee | |

Weapons
Main
Off
Damage
-
-
Accuracy
-
-
Type
-
-
Attributes
Armour rating

56

Life bonus

+180

Prayer bonus

0

Critical bonuses

0%

0%

0%

Compare item

A player wearing dragon gauntlets

[view] • [talk]
Fist of Guthix

Bronze • Iron • Steel • Black • Mithril • Adamant • Rune • Dragon(m)

Family Crest

Family gauntlets • Cooking gauntlets • Goldsmith gauntlets • Chaos gauntlets

Other
Robes
Dragonhide coifs
Gauntlets

Bronze • Iron • Steel • Black • Mithril • Adamant • Rune • Dragon

Shields
Gloves
Weapons

| | |
| --- | --- |
| Melee | Hatchet • Pickaxe • Battleaxe • Claw • Dagger • Halberd • Mace • Longsword • Scimitar • Spear • Two-handed sword |
| Ranged | Arrows • Arrowheads • Darts • Dart tips • Crossbow • Off-hand crossbow • 2h crossbow |
| Off-hand | Battleaxe • Claw • Dagger • Mace • Longsword • Scimitar • Defender |

Armour

| | |
| --- | --- |
| Sets | Plate armour set (lg) • Plate armour set (sk) • Chain armour set (lg) • Chain armour set (sk) |
| Set pieces | Boots(dragonbone) • Gauntlets • Helm • Full helm (sp) (or) (dragonbone) • Chainbody • Platebody (sp) (or) (dragonbone) • Platelegs (sp) (or) (dragonbone) • Plateskirt (sp) (or) (dragonbone) • Square shield (sp) (or) • Kiteshield (sp) (or) |

Corrupt dragon

| | |
| --- | --- |
| Armour | Helm • Square shield • Chainbody • Plateskirt • Platelegs |
| Weapons | |

Lucky dragon equipment
Other

Culinaromancer's gloves 9(dragonbone) (Dragon-coloured gloves) • Broken axe • Ruined lump • Ruined shard • Ruined slice • Shield left half • Shield right half • Dragon limbs