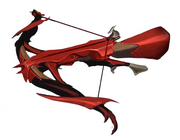 A dragon crossbow is a crossbow wielded in the mainhand slot, and is currently the fifth strongest non-degradable crossbow in the game. It requires a Ranged level of 60 to wield. It is made by using a crossbow string on a dragon c'bow (u), requiring a Fletching level of 94 and granting 100 experience.
The crossbow can be taken to Ocellus outside of the Monastery of Ascension, along with the six Ascension signets (dropped by the Ascension's mini-bosses, the Legiones) and 100 ascension shards to create an ascension crossbow.
Combat Stats
Requirements
60
Class
Slot
Ranged
Tier
60
Weapons
Main
Off
Damage
-
-
Accuracy
1132
-
Style
Bolts
Range
7
Attributes
Damage reduction
Armour
0
PvM:

0%

PvP:

0%

Life points
0
Style bonuses
Prayer
0

0

0

0

Attack speed
Fastest

Interval: 2.4 seconds

[FAQ] • [doc]
Dragon crossbow
-
100 XP
-
11,853,841
Requirements
Fletching level
94
Members only
Yes
Materials
Item
Quantity
Price
Total
Dragon crossbow (u)
1
9,135,171
9,135,171
Crossbow string
1
971
971
Total price
9,136,142
Disassembly
Edit
Main-hand
Off-hand
Two-handed
Promotional
Melee weapons
Ranged weapons
Tools
 Hatchet
 Pickaxe
Armour
Rewards
 Gloves
 Defender
Magic equipment
 Battlestaff
 Ward
Other

Treasure Trail

Spiked
Ornamental
Ad blocker interference detected!
Wikia is a free-to-use site that makes money from advertising. We have a modified experience for viewers using ad blockers

Wikia is not accessible if you've made further modifications. Remove the custom ad blocker rule(s) and the page will load as expected.