Dragon arrow
Discuss

1
27,812pages on
this wiki
Dragon arrow
Release date
11 June 2007 (Update)
Members
Yes
Quest item
No
Tradeable
Yes
Equipable
Yes
Stackable
Yes
High alch
480 coins
Low alch
320 coins
Destroy
Drop
Store price
Not sold
Exchange price

240

coins (info)
Buy limit
10,000
Examine
An arrow made using a dragon's talon.
Weight
0 kg
[view]
•
[talk]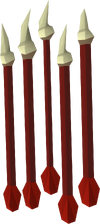 Dragon arrows are the third strongest arrows behind dark arrows and araxyte arrows. They require an elder bow or dark bow to use. Dragon arrows were released on 11 June 2007 along with the Impetuous Impulses minigame. The only types of implings that carry the dragon arrowheads are the Dragon impling and Kingly impling, which are both rare and hard to catch, requiring at least Hunter levels 83 and 91 respectively. Fletching dragon arrows requires level 90 Fletching. Fletching a set of 15 dragon arrows yields 225 fletching experience. Despite their strength, the high cost of dragon arrows makes them unpopular for most things besides PvP or high levelled monsters.
Many players thought that the arrowheads could be acquired by killing dragons, because of the examine option. Furthermore, these and dragon darts are not red in colour and are not precisely dragon items.
Rangers training behind fences or other impassable obstacles will find it economical to use Telegrab to retrieve dragon arrows if the stack is greater than 1.
Dragon arrows are usually only used in PvP combat situations due to their price.
Combat Stats
Skill requirements
60
Class
Slot
Ranged
Weapons
Main
Off
Damage
576
-
Accuracy
-
-
Style
Arrows
Attributes
Armour
0
Life points
0
Prayer
0
Style bonuses

0

0

0

[view] • [talk]
Dropping monsters
Edit