Dragon arrow
Discuss

1
22,529pages
on this wiki
Dragon arrow
Release date
11 June 2007 (Update)
Members?
Yes
Quest item?
No
Tradeable?
Yes
Lendable?
No
Equipable?
Yes
Stackable?
Yes
High Alch
480 coins
Low Alch
320 coins
Destroy
Drop
Store price
Not sold
Exchange price

533

coins (info)
Buy limit
10,000
Examine
An arrow made using a dragon's talon.
Weight
0 kg
[view]
•
[talk]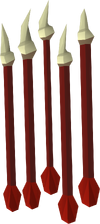 Dragon arrows are one of the strongest type of arrows. They can only be used with the Dark bow or the level 60 version of the Starfury bow. Dragon arrows were released on 11 June 2007 along with the Impetuous Impulses minigame. The only types of implings that carry the Dragon arrow tips are the Dragon impling and Kingly Impling, which are both rare and hard to catch, requiring at least Hunter levels 83 and 91 respectively. Fletching Dragon arrows requires level 90 Fletching. Fletching a set of 15 dragon arrows yields 225 experience in fletching. Despite their strength, the high cost of dragon arrows makes them unpopular for most things besides PvP or high levelled monsters.
Many players thought that these arrowtips could be acquired by killing dragons, because of the examine option. Furthermore, these and dragon darts are not red in colour and are not precisely dragon items.
If a player is using dragon arrows in a Safe spot, it is recommended that the player uses the Telekinetic Grab spell to retrieve his/her arrows, as the cost of losing one dragon arrow outweighs the cost of casting the spell.
Dragon arrows are usually only used in PvP combat situations.
Combat Stats

| Class | Slot |
| --- | --- |
| Ranged | |

Weapons
Main
Off
Damage
576
-
Accuracy
-
-
Type
Arrow
-
Attributes
Armour rating

0

Life bonus

+0

Prayer bonus

0

Critical bonuses

0%

0%

0%

Compare item

A player uses the descent of dragons special attack with dragon arrows

[view] • [talk]
Dropping monsters
Edit
According to the in-game Ranged skill guide, Dragon arrows can be used with the Guthix, Saradomin and Zamorak bows. (Elite clue scroll rewards). However, Dragon arrows cannot be used with these bows. This mistake is likely because the Guthix, Saradomin and Zamorak arrows have the same maximum Ranged Strength bonus as Dragon arrows.
When viewing a single dragon arrow in your inventory or bank, it will look as if it were broken up.
When used with the Dark Bow special attack, there appeared to be Black dragon heads before the graphical update.
Metal arrows
Arrowheads

Bronze • Iron • Steel • Mithril • Broad • Adamant • Rune • Dragon

Brutal arrows
Fire arrows
Dungeoneering arrows

Novite • Bathus • Marmaros • Kratonite • Fractite • Zephyrium • Argonite • Katagon • Gorgonite • Promethium • Sagittarian

God arrows
Special arrows

Ice • Ogre • Broad • Training • Sacred clay

Other items
Weapons

| | |
| --- | --- |
| Melee | Hatchet • Pickaxe • Battleaxe • Claw • Dagger • Halberd • Mace • Longsword • Scimitar • Spear • Two-handed sword |
| Ranged | Arrows • Arrowheads • Darts • Dart tips • Crossbow • Off-hand crossbow • 2h crossbow |
| Off-hand | Battleaxe • Claw • Dagger • Mace • Longsword • Scimitar • Defender |

Armour

| | |
| --- | --- |
| Sets | Plate armour set (lg) • Plate armour set (sk) • Chain armour set (lg) • Chain armour set (sk) |
| Set pieces | Boots(dragonbone) • Gauntlets • Helm • Full helm (sp) (or) (dragonbone) • Chainbody • Platebody (sp) (or) (dragonbone) • Platelegs (sp) (or) (dragonbone) • Plateskirt (sp) (or) (dragonbone) • Square shield (sp) (or) • Kiteshield (sp) (or) |

Corrupt dragon

| | |
| --- | --- |
| Armour | Helm • Square shield • Chainbody • Plateskirt • Platelegs |
| Weapons | |

Lucky dragon equipment
Other

Culinaromancer's gloves 9(dragonbone) (Dragon-coloured gloves) • Broken axe • Ruined lump • Ruined shard • Ruined slice • Shield left half • Shield right half • Dragon limbs