Dragon 2h sword
Discuss

27
22,528pages
on this wiki
For the Lucky version, see Lucky dragon 2h sword.

The dragon two-handed sword is the sixth strongest two-handed sword available, succeeded by the various types of godswords and the saradomin sword, and ties for sixth strongest non-degradable weapon, again surpassed by the godswords and identical to balmung. It can only be wielded by members who have at least 60 Attack. It is dropped by the Chaos Elemental and the Kalphite Queen, and can also be looted from a kingly impling jar.
With the release of Item Lending, the dragon two-handed sword, like the godsword, is in somewhat popular demand for inexperienced players wishing to see their maximum hit and/or deciding if it is something they wish to buy. This weapon is mostly seen borrowed/lent near the Pest Control landers.
In early May 2009, the price of the dragon two-handed sword crashed. It fell from around one million coins to around 600,000 coins. After a slight price recovery around 19 May 2009, the sword continued to fall in price and, in the crash, people were frantically selling them in junk trades. The price has since made a significant recovery. This is most likely due to the old-style PvP-Wilderness update, making one of the two sources of the dragon two-handed sword, the Chaos Elemental, much harder to reach due to player-killers.
Combat Stats

| Class | Slot |
| --- | --- |
| Melee | |

Weapons
Main
Off
Damage
1341
-
Accuracy
1132
-
Type
Slash
-
Attributes
Armour rating

0

Life bonus

+0

Prayer bonus

0

Critical bonuses

0%

0%

0%

Attack speed

Average

Interval: 3.6 seconds

Compare item

A player wielding the dragon 2h sword

[view] • [talk]
Dropping monsters
Edit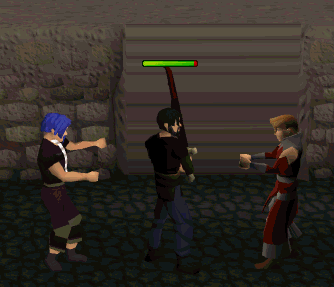 Standard

Bronze • Iron • Steel • Black • White • Mithril • Adamant • Rune • Dragon

Other
Weapons

| | |
| --- | --- |
| Melee | Hatchet • Pickaxe • Battleaxe • Claw • Dagger • Halberd • Mace • Longsword • Scimitar • Spear • Two-handed sword |
| Ranged | Arrows • Arrowheads • Darts • Dart tips • Crossbow • Off-hand crossbow • 2h crossbow |
| Off-hand | Battleaxe • Claw • Dagger • Mace • Longsword • Scimitar • Defender |

Armour

| | |
| --- | --- |
| Sets | Plate armour set (lg) • Plate armour set (sk) • Chain armour set (lg) • Chain armour set (sk) |
| Set pieces | Boots(dragonbone) • Gauntlets • Helm • Full helm (sp) (or) (dragonbone) • Chainbody • Platebody (sp) (or) (dragonbone) • Platelegs (sp) (or) (dragonbone) • Plateskirt (sp) (or) (dragonbone) • Square shield (sp) (or) • Kiteshield (sp) (or) |

Corrupt dragon

| | |
| --- | --- |
| Armour | Helm • Square shield • Chainbody • Plateskirt • Platelegs |
| Weapons | |

Lucky dragon equipment
Other

Culinaromancer's gloves 9(dragonbone) (Dragon-coloured gloves) • Broken axe • Ruined lump • Ruined shard • Ruined slice • Shield left half • Shield right half • Dragon limbs