Dragon (metal)
Discuss

14
24,868pages
on this wiki
For other uses, see dragon.
Dragon is a strong, red metal; while not being an ore that is minable or smeltable by the player, dragon is still considered as the next level up from Rune and thus is included in the metals category. This is supported by the fact that with 92 Smithing, a player can repair the dragon platebody from its components at the Dragon forge. Dragon items require level 60 Attack and/or Defence to wield/wear.
Dragon items are members-only and often require completion of a quest to be usable. Dragon metal items are a distinctive dark red in colour, and their shapes differ from similar items of different metals. Prior to the Evolution of Combat update, all Dragon items had a special attack. Their stats have been marginally improved to compensate for the lack of a special attack. Dragon items are generally sold at high prices in shops or dropped by high-levelled monsters.
Note that because of the Evolution of Combat update, the prices of most dragon items have equalized between 20,000 and 60,000. It is almost always more cost-efficient to buy it off the Grand Exchange, making the shops throughout Runescape a very expensive means of obtaining the items.
Note that dragon arrows and darts are not made from dragon metal at all; they are simply fletched from the talons of a dragon. Some weapons or armour are not currently existent in the form of Dragon - for example, there are currently no Dragon shortswords, throwing knives, hastae, javelins, or bolts. However, Jagex has confirmed, on their Youtube channel, that every weapon will eventually have a Dragon metal equivalent.[1]
Dragon armour has been released in pieces, so the full armour set was only completed with the release of the dragon kiteshield. The set components are: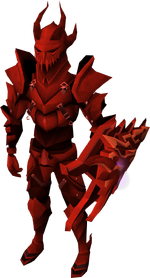 Much about Dragon metal is unknown, but what is known is that it originates from Frenaskrae, and that the Necrosyrte Dragonkin were heavily involved in either the metal's creation or the creation of the Dragon armour and weaponry. In either case, the weapons were then somehow obtained by the early inhabitants of RuneScape. The Dragonkin told no one what Dragon is made of, nor how it is produced, so very little is known about it. It is currently the hardest known metal in all of RuneScape. Some people believe that God Armour or Barrows armour may precede Dragon, however, since Ava's Accumulator can be used in conjunction with the aforementioned, it can be assumed that they are not metals. Many attempts have been made to melt it down, but so far, none have been successful. One notable attempt was made by Mr. Mordaut, who inadvertently revealed that the Dragonkin were the original creators of the metal.
Jukat, the fairy in Zanaris selling dragon longswords and daggers, advertises that they come "straight from Frenaskrae". This would suggest that there are Dragonkin on Frenaskrae, and that either they or the Mahjarrat are responsible for introducing the weapons to RuneScape.
The monkeys of Ape Atoll apparently make dragon scimitars, making them the only dragon equipment with a known source.
The Tormented Demon, also known as TD, was released on 26 November 2008 along with the While Guthix Sleeps quest. When this level 170 demon is defeated, it may rarely drop:
The Ruined dragon armour is made of the demon's body parts, therefore it may be possible that the demons are the source of Dragon metal. These parts can be forged into a Dragon platebody at the Dragon Forge in the Ancient Cavern.
As of August 2010, Dragon ornament kits have made available to add to the Dragon platebody, platelegs and full helm. They add additional decoration to the armour. There are two sets, (or) and (sp). (Or) adds a golden trim, whilst (sp) adds additional spikes. Neither kit adds any stats. The kits are available as a reward for completing level 4 Treasure Trails. Though the kits themselves are tradable, the altered armour is not. Once added, the ornamental decoration will be able to return to its original kit if desired.
As of 29 May 2012, Dragonbone upgrade kits have been made available, as another upgrade to the Dragon platebody, platelegs, plateskirt, boots, gloves (Culinaromancer's gloves 9), and full helm. They add a purple colour and bone decoration to the armour. This is purely cosmetic; the kit does not add additional stats. Each part requires one kit, meaning 5 kits are needed for a complete set. The upgrade kits are obtainable as a rare drop from the Queen Black Dragon.
Corrupt dragon equipment
Edit
Corrupt Dragon equipment was introduced with the PvP worlds update. It has the same bonuses as regular Dragon equipment, but is available to free players. This equipment is very dark in colour, and dissolves after 30 minutes of being equipped. It acts similarly to the Barrows equipment, except it disintegrates completely after use and can't be repaired. It is the most expensive equipment in the free game for how fast it degrades. The price has also fallen significantly since its release.
References
Edit
Weapons

| | |
| --- | --- |
| Melee |  Hatchet •  Pickaxe •  Battleaxe •  Claw •  Dagger •  Halberd •  Mace •  Longsword •  Scimitar •  Spear •  Two-handed sword •  Warhammer |
| Ranged |  Arrows •  Arrowheads • Darts (Off-hand) •  Dart tips •  Crossbow •  Off-hand crossbow •  2h crossbow •  Throwing axe(Off-hand) |
| Magic |  Battlestaff |
| Off-hand |  Battleaxe •  Claw •  Dagger •  Mace •  Longsword •  Scimitar •  Defender •  Warhammer |

Armour

| | |
| --- | --- |
| Sets |  Plate armour set (lg) •  Plate armour set (sk) •  Chain armour set (lg) •  Chain armour set (sk) |
| Set pieces |  Boots(dragonbone) •  Gauntlets •  Helm •  Full helm (sp) (or) (dragonbone) •  Chainbody •  Platebody (sp) (or) (dragonbone) •  Platelegs (sp) (or) (dragonbone) •  Plateskirt (sp) (or) (dragonbone) •  Square shield (sp) (or) •  Kiteshield (sp) (or) |

Corrupt dragon

| | |
| --- | --- |
| Armour |  Helm •  Square shield •  Chainbody •  Plateskirt •  Platelegs |
| Weapons | |

Lucky dragon equipment
Other

 Culinaromancer's gloves 9(dragonbone) (Dragon-coloured gloves) •  Broken axe •  Ruined lump •  Ruined shard •  Ruined slice •  Shield left half •  Shield right half •  Dragon limbs

Unreleased

Javelin • Knife • Shortsword