Dragon (Unstable Foundations)
Discuss

0
22,528pages
on this wiki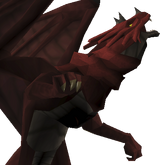 The Dragon was a dragon with an unspecified combat level that featured in the Unstable Foundations tutorial quest, which was how new players started the game. The Dragon was released with the quest in September 2009, along with the Objectives interface tab. The Dragon was one of only two red dragons accessible to free players, the other being Mr. Mordaut. Sir Vant mentioned that this dragon was owned by Roddeck. As revealed by Roddeck's Diary, it was a female dragon named Sally. Apparently, she grew too big to be controlled, broke out of the shackles and reigned Roddeck's basement.
During the tutorial, the dragon had an 'attack' option, though players would be stopped if they attempted this. The dragon is assumed to be dead after the roof in the cellar is collapsed on top of it.
As such, the three-headed dragon from Learning the Ropes can no longer be accessed by new accounts that are created. It was a very different tutorial from the very first one, in RuneScape 2. Accounts that were created before Unstable Foundations "quest" can still access the dungeon where Sir Vantand the dragon fought in Learning the Ropes. When they go to the dungeon and volunteer to help, Sir Vant will give the player two lamps. Accounts that completed the Unstable Foundations quest cannot access this dungeon as a message appears saying that the ladder was destroyed.
The dragon was the first one to use the new dragon graphical style, second was ice dragon sculpture in Land of Snow at Christmas 2009. Currently all dragons use this style. This new style of dragons was released along with the Love Story Update. All dragons except for pets and POH dragons were updated. Mod Wayne stated that these dragons would be updated sometime in the future.