Dragon (Learning the Ropes)
Discuss

5
22,529pages
on this wiki
Three Headed Dragon
Release date
14 July 2008 (Update)
Members?
No
Combat level
243
XP per kill
Unknown edit
Always drops
Nothing
Examine text
A big, mean dragon. By the smell of its breath, it has just woken up. / A dragon with a pretty bad headache. / A dragon with a very bad headache.

Combat stats
LP
Max hit
3.14
Melee - 15000




Dragonbreath - 180 (With anti-dragon shield)

Attack
Defence
Ranged
Magic
Unknown
Unknown
Unknown
Unknown
Other
Immune to Poison?
Immune to Stun?
Unknown edit
Unknown edit
Attack Speed
Unknown edit
Aggressive?
Poisonous?
Yes
No
Attack styles
Weakness
Melee
Dragonfire

Nothing

[view template]
This three-headed dragon is a level 243 enemy that was found in the Learning the Ropes tutorial, which is no longer accessible for new players. It has the highest combat level out of any green dragon and free-to-play Dragons. However, it cannot be fought by players through conventional means. Sir Vant claims he sent for help from Falador, and will not let you fight the dragon, however he would give you 3 exp lamps for asking. He attempts to slay this dragon, but it manages to escape while severely injured, with only its middle head remaining alive. Its escape caused the collapse of the Lumbridge Mine. It is said to still be lurking under Lumbridge at the mine.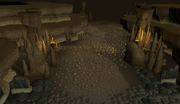 After the fight with the knight, right before it retreats, the dragon's level is 1.
It is possible to watch the cutscene detailing the battle if one chooses the second option when talking with Sir Vant if your account was created before Unstable Foundations was released.
If you use the Orb of Oculus at certain places, you can see the Dragon's lair.
This dragon looks like a green version of the old King Black Dragon.