Draconic visage
Discuss

1k
22,499pages
on this wiki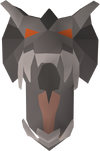 The draconic visage is a very rare bonus drop from iron, steel, mithril, frost and black dragons, and is also dropped by Skeletal Wyverns, King Black Dragon, and the Queen Black Dragon. All creatures that drop the draconic visage are of formidable combat level. The Ring of Wealth does not affect the chances of receiving a Draconic Visage drop despite popular belief. [1]
Dragonfire Shield
Players with level 90 Smithing can combine an anti-dragon shield with the visage to create a dragonfire shield, a process that grants 2,000 Smithing experience. If players do not have 90 Smithing, they may use the Assist System, or a smithing boosting item such as dwarven stout (m) to forge the shield. (Note that a mature dwarven stout only provides a +2 boost to a player's Smithing level.) If unable or unwilling to use the assist system, a dragonfire shield may also be created from a visage and an anti-dragon shield by paying Oziach, an NPC from the Dragon Slayer quest, a sum of 1,250,000 coins. Depending on the prices of both the draconic visage and the dragonfire shield, it may be advisable to sell the draconic visage and buy the completed shield, rather than attempting to smith one.
Dropping monsters
Trivia
The term "draconic visage" stems from draconic, meaning "of or pertaining to dragons," and visage, meaning "face, or image/likeness" thus literally meaning "dragon's face" or "dragon's image." In the Portuguese (Br) version of the game, this item is called "face de dragão", which means "dragon's face".
When you receive a Draconic Visage as a drop, it appears in your Adventurer's log: "After killing a [dragon type] dragon, it dropped a draconic visage".
The visage was temporarily added to the Barrows rewards chest on January 4, 2012 as a means of celebrating the Barrows graphical rework. It was available as possible chest loot until 11th of January 2012 when it was taken away as a reward. That week saw the obtaining of a vast amount of draconic visages, resulting in a significant crash in both its price and that of the Dragonfire Shield.
During the period from January 4, 2012-January 11, 2012, when looting a Draconic Visage from the Barrows chest the Adventurer's Log reads: " After plundering the Barrows, I looted a draconic visage."
The look of the Draconic Visage still represents how it used to be on the Dragonfire Shield before the weapons and armour rework was released.
References