Dominion marker
Discuss

15
22,530pages
on this wiki
Dominion markers are rewards from the Dominion Tower. They can be placed on the ground, and anyone who clicks on it can read the owner's achievements within the Dominion Tower.
There are four stages of markers. They are unlocked by killing various amounts of bosses in the Dominion Tower. After killing the level 160 version of Sunfreet, horns will appear on your marker with particle effects.
Moving too far away from the marker will cause it to time itself out; it will also eventually time out, regardless of proximity, after about 15–25 minutes. When it times out, it will automatically return to your inventory, and a notification of "Your marker was returned to your inventory" will appear in the chatbox. It can be replanted as normal. However, if the player's inventory is full, the marker will be sent to their bank.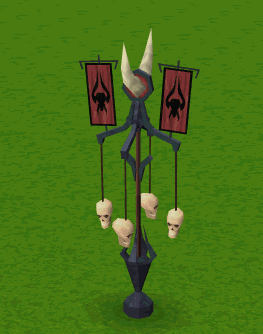 It also visibly boosts your stats, if placed near you, for these bosses:
Please note, your stats won't be boosted in the rest of the fight caves, and will only be boosted upon facing the TzTok-Jad. For this reason, other boosts should be considered for the rest of the fight caves. Also, if the marker is left in the caves when you die or complete it, it will not return to your inventory or bank and you will have to retrieve another from the tower.
The stat boost given while this is placed at one of those bosses is +4 for Tier 1, +6 for Tier 2, +8 for Tier 3 and +10 for Tier 4. The boosts given apply to Attack, Strength, Defence, Magic, and Ranged.
The boost from the markers must fully restore to the players base levels before it can boost again.
When the marker gives the stat boost you get the message "You feel proud and empowered by your marker."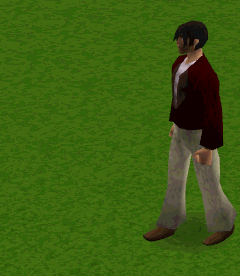 The God Wars Dungeon boosts only apply when you are inside the boss room.
| Stage | Image | Requirements | Stat boost |
| --- | --- | --- | --- |
| One | | 100 boss kills in the Dominion Tower. | +4 levels in Attack, Strength, Defence, Magic, and Ranged. |
| Two | | 200 boss kills in the Dominion Tower. | +6 levels in Attack, Strength, Defence, Magic, and Ranged. |
| Three | | 300 boss kills in the Dominion Tower. | +8 levels in Attack, Strength, Defence, Magic, and Ranged. |
| Four | | Complete all achievements. | +10 levels in Attack, Strength, Defence, Magic, and Ranged. |
Bosses

Class A

Nomad • Pest Queen • Decaying avatar • Eruni • Ayuni • Leeuni • Dagannoth Mother (Blood Runs Deep) • Zenevivia

Class B

The Untouchable • Damis • Fareed • Kamil • Dessous • The Everlasting • The Illusive • Dagannoth sentinel • Karamel • Gelatinnoth Mother • Nezikchened

Class C

Balance Elemental • Jungle demon • Arrav • Ice demon • The Inadequacy • A Doubt • Giant Roc

Class D

Arrg • Barrelchest • Chronozon • Evil Chicken • Flambeed • Agrith-Na-Na • Dessourt • Giant scarab

Class E

Bouncer • Koschei the deathless • Arzinian Avatar • Black Knight Titan • General Khazard • Black Knight guardian

Class F

Dad • Dramen Tree Spirit • Agrith Naar • Dagannoth mother (Horror from the Deep) • TokTz-Ket-Dill • Black golem • Grey golem • White golem

Class G

Treus Dayth • Elvarg • Culinaromancer • Tumeken's shadow • The Kendal • The Draugen

Class H

Tarn Razorlor • Sigmund • Melzar the Mad • Count Draynor • Delrith • Solus Dellagar

Miscellaneous

Sunfreet
Power-ups

| | |
| --- | --- |
| Weapons | |
| Bombs | |
| Dom potions | Dom super restore • Dom saradomin brew • Dom super antipoison • Dom super prayer |
| Other | |

Gloves
Mines
Miscellaneous

Xp book • A journal page • Dominion journal • Dreadnip • Dominion marker • Dominion medallion • Super dominion medallion