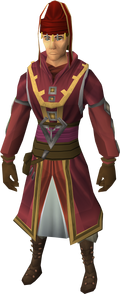 The Diviner's outfit is acquired via Treasure Hunter, inspired by the appearances of Faizan Augour and Orla Fairweather.
When one item is worn, it gives a slight Divination experience bonus of 1%. When all of the pieces of the set are worn, a 1% set bonus is added; thus, the full 5-piece set provides a total of 6% bonus.
The set cannot be stored in a player-owned house costume room. It can, however, be freely reclaimed from Diango when destroyed or lost on death.
Bonus experience
Edit