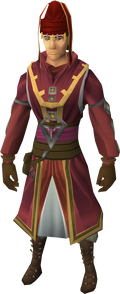 The Diviner's outfit is an experience-boosting outfit inspired by the appearances of Faizan Augour and Orla Fairweather. It is acquired via Treasure Hunter, as a possible reward from an experience-earning Guthixian Cache, or it can be bought for thaler from Stanley Limelight Traders.
When one item is worn, it gives a Divination experience bonus of 1%. When all of the pieces of the set are worn, a 1% set bonus is added; thus, the full 5-piece set provides a total of 6% bonus.
The set can be freely reclaimed from Diango, Ianto, or Azibo when destroyed or lost on death.
Experience boost
Edit
Ad blocker interference detected!
Wikia is a free-to-use site that makes money from advertising. We have a modified experience for viewers using ad blockers

Wikia is not accessible if you've made further modifications. Remove the custom ad blocker rule(s) and the page will load as expected.