Divine magic tree
Discuss

0
25,202pages
on this wiki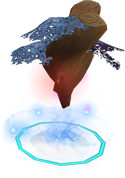 The Divine magic tree is a magic tree that can be created at level 83 Divination, using 40 brilliant energy and 5 magic logs. It can then be chopped by anyone with a Woodcutting level of 75 for magic logs. If anyone other than the owner chops it, the owner can randomly be awarded noted magic logs. Divine magic trees last for approximately 25 seconds after a player first interacts with it.
Just like every other divine location, players can only craft one of these per day.
A divine magic tree costs &0000000000008250000000

 8,250 coins to make.
Divine magic tree
-
18 xp
-
-
1,728
-
Requirements
Divination level
83
Members only?
Yes
Materials
Item
Quantity
Price
Total
Brilliant energy
40
45
1,800
Magic logs
5
1,290
6,450
Total price
8,250
Gathering

Wisps and Springs

Pale • Flickering (Enriched) • Bright (Enriched) • Glowing (Enriched) • Sparkling (Enriched) • Gleaming (Enriched) • Vibrant (Enriched) • Lustrous (Enriched) • Brilliant (Enriched) • Radiant (Enriched) • Luminous (Enriched) • Incandescent (Enriched)

Memories

 Pale •  Flickering (Enriched) •  Bright (Enriched) •  Glowing (Enriched) •  Sparkling (Enriched) •  Gleaming (Enriched) •  Vibrant (Enriched) •  Lustrous (Enriched) •  Brilliant (Enriched) •  Radiant (Enriched) •  Luminous (Enriched) •  Incandescent (Enriched)

Energy

Pale • Flickering • Bright • Glowing • Sparkling • Gleaming • Vibrant • Lustrous • Brilliant • Radiant • Luminous • Incandescent

Boons

Flickering • Bright • Glowing • Sparkling • Gleaming • Vibrant • Lustrous • Brilliant • Radiant • Luminous • Incandescent

Other
Mining
Hunter
Woodcutting
Farming
Fishing

 Crayfish •  Herring •  Trout •  Salmon •  Lobster •  Swordfish •  Shark •  Cavefish •  Rocktail
Products

Signs
Portents

| | |
| --- | --- |
| Restoration | Normal I • Attuned I • Normal II • Attuned II • Normal III • Attuned III • Normal IV • Attuned IV • Normal V • Attuned V • Normal VI • Attuned VI • Normal VII • Attuned VII • Normal VIII • Attuned VIII • Normal IX • Attuned IX • Normal X • Attuned X |
| Other | |

Dungeoneering

Aoife Fairweather •

Orla Fairweather •

Faizan Augour •
May Stormbrewer •

Sara Onnear •

John Wyrd •

Bruin Odetsson •

Elena Suerten