Shooting Star
Edit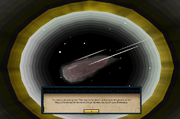 Shooting stars fall from the sky in RuneScape approximately every 2 hours in one location on each world. The location may be different in other worlds. When players mine through all layers of the star, they will find a Star sprite. The location of the crash sites are random, although the stars always crash near a mine or bank. Shooting stars can be viewed through a Telescope which gives a regional location and approximate time of its landing. The telescope can isolate the landing to the following 9 regions:
Tip: Bring armour, food and/or prayer potions
Tip: Bring Waterskins and Desert gear or an Enchanted water tiara
Canifis bank.
Burgh de Rott bank.
South of the Mos Le'Harmless bank.
North of the bank at Gnome Stronghold, west of Gnome Stronghold Agility Course.
South of the crystal teleport seed destination in Lletya, behind the archery store.
Tip: Bring a super antipoison potion and Magic armour for protection from PVP attacks.
Free to play locations
Edit