Dining Room
Discuss

0
22,503pages
on this wiki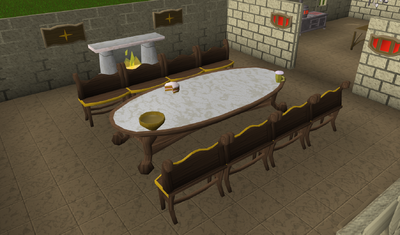 The Dining room in a player-owned house is a place where a servant can serve food to the player and guests.
Building a Dining Room requires level 10 Construction and 5,000 coins.
There are 7 Hotspots available:
Table
Fireplace
Seating x2
Decoration
Curtain
Bell pull
All the tables can be made as flatpacks in the Workshop.
Fireplace
Edit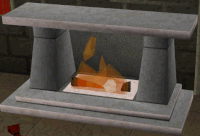 You can only use regular logs to light the fireplace, giving some Firemaking experience.
Benches are used to sit on. They have little practical use but add to the 'dining room' concept.
All the benches can be made as flatpacks in the Workshop.
Decoration
Edit
You must buy a logo from the Chief Herald of Falador before you build a Decoration.
Bell pull
Edit
Ringing the bell will summon the servant, making it very useful.
Complete Room
Edit
To build this room with the highest level furniture possible in one go requires level 72 construction, 17 mahogany planks, 4 teak planks, 9 bolts of cloth, 15 gold leaves and 3 marble blocks, costing a total of 3,035,605 coins.
A glitch that is very well known is to "glitch" your dining chair. What you do is sit on the chair, then click on something that when left clicked does something (such as another chair) then while your chair is turning quickly open the Attack interface (does work with other interfaces but the attack one is the closest) and while the interface is open, eat something. Your chair is "glitched' and it looks like you are sitting in two directions at the same time.
Another known glitch is being able to turn chairs (including thrones, although you can't walk where the throne would be, you can with chairs) invisible by sitting down on them and then going into house options and selecting Leave House, the chairs will re-appear when the owner logs out.
Another glitch involves a follower right behind you, and then picking them up or talking to them, resulting in the chair being turned around. You can also perform this glitch with a player next to you, cast any Tele-other spell without the requirements OR Runes, then click on them.
There is a glitch involving the dining room benches. The player can hold weapons in different positions. For Example, if a player has a 2h currently equipped and he/she sits down, if they switch weapons while sitting, they'll hold the newly equipped weapon like the previous one. The image shows a player who was wielding a 2h, sat down and switched weapons, and produced the following outcome. This also works sitting down unarmed, equipping something and standing up. (This is now fixed, You'll now get the message, "you should stand up first" instead of equipping the weapon)

Garden •

Parlour •

Kitchen •

Dining Room •

Workshop •
Bedroom •
Skill Hall •

Games room •

Combat Room •
Quest Hall •
Menagerie •

Study •
Costume room •

Chapel •

Portal Chamber •

Formal Garden •

Throne Room •
Oubliette •

Dungeon •
Dungeon pit •

Treasure Room
Tables

Wooden • Oak • Carved oak • Teak • Carved teak • Mahogany • Opulent

Fireplaces
Benches

Wood • Oak • Carved oak • Teak • Carved teak • Mahogany • Gilded

Decorations
Bell-pulls
Curtains