Digsite workmen are located in the unfinished Senntisten Temple. They are working on restoring the altar to Zaros. They are Zarosian, and come from the Kharidian Desert. They know Azzanadra (their "hero"), who is then disguised as Dr Nabanik. They seem to be Zarosian-orthodox, despising all other gods. At the end of The Temple at Senntisten, they are granted some power by Zaros.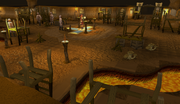 Ad blocker interference detected!
Wikia is a free-to-use site that makes money from advertising. We have a modified experience for viewers using ad blockers

Wikia is not accessible if you've made further modifications. Remove the custom ad blocker rule(s) and the page will load as expected.