Walkthrough
Edit
Start point

Speak to the monk just outside Paterdomus, the temple on the Salve
Member requirement
Members only
Official difficulty
Experienced
Official length
Medium
Requirements
Skill requirements are not boostable.

Quests:

Items required
Items from the tool belt are not listed unless they do not work or are not automatically added.
Recommended
Enemies to defeat
Getting Started
Edit
The Weapon
Edit
Use the orb on a large pouch.
Bank anything you have, except for the large pouch, and head to Edgeville.
Enter the Abyss, then make your way to the Law rift.
Leave the Law Altar by using the portal, then head into the church of Entrana to the south.
Use the pouch on the prayer altar.
Watch the cutscene.

Talk to the High Priest if you didn't during the cutscene.
Finishing Up
Edit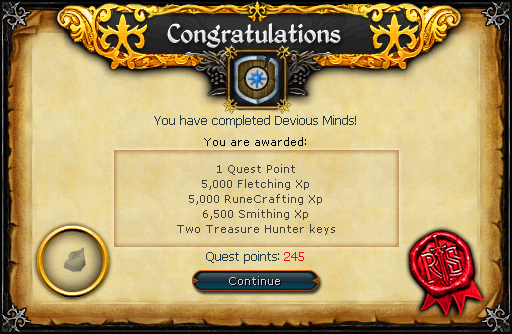 NPCs
Items
Locations
Miscellaneous
Quick guide • Transcript