Desert strykewyrm
Discuss

40
22,529pages
on this wiki
Desert strykewyrm
Also called
D Strykes
Release date
8 February 2010 (Update)
Members?
Yes
Combat level
148
XP per kill
846.4 (and 279.3 experience)
Slayer level
77
Slayer XP
316.8
Assigned by
Sumona, Duradel or Lapalok, Kuradal
Always drops
None
Examine text
I'm pretty sure there's something under there. (When burrowing)
I dread to think of how many of these are in the sand.

Combat stats
LP
Max hit
7000
296
Attack
Defence
Ranged
Magic
Unknown
Unknown
Unknown
Unknown
Other
Immune to Poison?
Immune to Stun?
Yes
No
Attack Speed

Speed 6 (Interval: 2.4 seconds)

Aggressive?
Poisonous?
No
No
Attack styles
Weakness
Melee
Magic

Stab

[view template]
Desert strykewyrms are Slayer monsters located east of Al Kharid, through the east gate. They may only be killed if a player is assigned to kill them by a Slayer master (level 77 Slayer required). You cannot use temporary boosts, as you need to be assigned these from your master.
Note that the desert in this area no longer drains life points. As such, waterskins are unnecessary.
A wyrm initially appears as a mound on the ground; the mound may be still or be moving about. Before battle can be initiated with the wyrm, a player must investigate the mound by clicking on it. This causes the player's character to perform the Stomp emote, after which the wyrm bursts out of the ground. When the wyrm appears, the player should immediately click on it to initiate combat, as otherwise a small amount of time will be wasted before combat begins.
Desert strykewyrms are an excellent source of various noted items, and the occasional focus sight, which is needed to create a full slayer helmet. If the player is not currently assigned a desert strykewyrm task, investigating the mound still causes the player's character to perform the stomp emote, but the wyrm does not burst forth. Instead, the character will then perform the Think emote.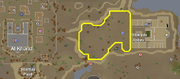 The desert strykewyrm's standard attacks are melee and magical ranged. The wyrm will usually use melee and only occasionally use magical range when the player is not within melee range. This attack however, rarely hits and even if it hits, it usually does not hit over 100.
The desert strykewyrm also has a special attack which consists of it burrowing under the ground, moving toward the player fighting it, and then bursting out of the ground which can deal 500-2000 damage. Running over the strykewyrm right as it bursts out of the ground will hit the player twice with its special attack, possibly adding up to 4000 damage.
The special attack may be avoided by running 2-3 squares away from where the player was standing when the wyrm starts to burrow. Timing is important; hesitating a moment when the wyrm burrows could cause the wyrm's special attack to hit. Many players run directly away from the wyrm when it burrows, but depending on your reaction time, this might not be a good idea, so running to the sides is a good idea for those with laggy computers or if they are too slow to react to the attack.
When running away from the special attack, it is best to click on the ground itself instead of the minimap, as the player can react to the tactical situation in the area. A player should not click on another mound when trying to get away, as the player will run up to (not onto) the mound and stop, which might leave the player too close to the surfacing wyrm.
Desert strykewyrms have a high amount of health for their level, but have low defence, making it quite easy with powerful weapons to cause a large amount of damage. The wyrm's special attack can be disabled by standing near any kind of obstacle. There are several cacti and bushes around their area, but they are relatively spread out and few in number.
This special attack occurs on average once every 15-20 attacks. Depending upon how fast the player can kill a desert strykewyrm, the special attack may or may not occur with each wyrm battle, but one special attack per 2 or 3 wyrms is very likely. The ultimate defence skill rejuvenate, which requires a shield, is very useful for healing in the occasional event that players are unable to dodge the special attack. Players need not wear a shield the entire trip; they can merely equip a shield and use the ability, waiting until the healing is complete, and then resume attacking with another weapon. Bunyips provide a useful source of sustained healing as well. 
For players who have difficulty moving out of the way in time, it is advised to range strykewyrms from a distance. Range them at the maximum distance of your crossbow/shortbow/shieldbow as they will slowly advance towards you occasionally. Keep in mind that these strykewyrms may be fairly resistant to ranged attacks, so it may be in your best interest to use melee. 
Runes and Talismans
Edit
Weapons and armour
Edit
Other drops
Edit
Note: Can occasionally drop two drops at once.
Rare drop table drops
Edit
This monster drops items from the rare drop table.
The ring of wealth improves the chances if equipped but is not required to access the table.
Show/hide rare drop table

Item
Quantity
Rarity
GE Market Price
Coins
250; 381; 450; 3,000; 9,000; 12,000
Common
Not sold
Uncut sapphire
1
Common
1,143
Uncut emerald
1
Common
1,783
Uncut ruby
1
Common
3,576
Loop half of a key
1
Uncommon
8,548
Tooth half of a key
1
Uncommon
12,668
Uncut diamond
1
Uncommon
7,160
Uncut dragonstone
1
Rare
14,935
Dragonstone
1
Rare
9,966
Dragon dagger
1
Uncommon
17,221
Rune battleaxe
1
Rare
24,627
Rune javelin
5
Rare
1,270
Adamant javelin
20
Very rare
920
Rune spear
1
Very rare
12,048
Dragon spear
1
Very rare
36,856
Dragon dagger
50 (noted)
Very rare
861,050
Rune kiteshield
1
Very rare
32,145
Shield left half
1
Very rare
65,188
Dragon helm
1
Very rare
59,636
Adamant bolts
200
Uncommon
17,400
Rune arrow
150–200; 500
Rare
29,850–199
Onyx bolts
150
Rare
1,303,050
Battlestaff
200 (noted)
Rare
1,665,400
Air orb
1,000 (noted)
Rare
1,418,000
Fire orb
1,000 (noted)
Rare
1,612,000
Vecna skull
1
Very rare
133,474
Water talisman
1
Uncommon
4,721
Earth talisman
25–35 (noted)
Uncommon
19,825–27,755
Fire talisman
25–35 (noted)
Uncommon
50,450–70,630
Chaos talisman
1
Uncommon
227
Nature talisman
1
Uncommon
270
Pure essence
500–15,000 (noted)
Uncommon
42,500–1,275,000
Nature rune
47–77
Rare
5,217–8,547
Soul rune
20
Rare
2,420
Death rune
50; 121
Rare
93
Blood rune
50
Rare
8,150
Raw swordfish
125 – 250; 1,000 (noted)
Uncommon
37,250–298
Raw shark
250–500 (noted)
Uncommon
246,500–493,000
Big bones
150 – 500 (noted)
Uncommon
67,350–224,500
Coal
150–7,500 (noted)
Uncommon
41,700–2,085,000
Adamantite ore
150–800 (noted)
Uncommon
227,700–1,214,400
Silver ore
100 (noted)
Rare
10,500
Adamant bar
1,000–7,000 (noted)
Rare
3,168,000–22,176,000
Runite ore
100 (noted)
Rare
1,041,900
Rune bar
1,50,150 (noted)
Rare
13,002–1,950,300
Clean ranarr
33 (noted)
Uncommon
74,448
Clean toadflax
25–250 (noted)
Uncommon
95,050–950,500
Clean snapdragon
30–120 (noted)
Uncommon
106,530–426,120
Clean torstol
10–100 (noted)
Uncommon
118,420–1,184,200
Saradomin brew (4)
250 (noted)
Very rare
172,000
Watermelon seed
3
Uncommon
6,030
Yew seed
1–50
Rare
71,385–3,569,250
Magic seed
1–6
Rare
160,602–963,612
Palm tree seed
10
Rare
1,064,590
Snapdragon seed
1
Rare
2,196
Torstol seed
1–31
Rare
78,509–2,433,779
Fellstalk seed
2
Rare
932
Yew logs
100–20,000 (noted)
Rare
56,100–11,220,000
Using the stomp emote to attract the strykewyrm is possibly a reference to the sandworms (Shai'Hulud) from Frank Herbert's Dune novel series, which share some common characteristics.
As with all other strykewyrms, desert strykewyrms can attack diagonally with melee. This is not a glitch.
Desert strykewyrms could be based off the monsters Graboids from the movie Tremors, in which gigantic worm-like beings travel underground in the Nevada desert in search of people to eat, or more likely, the sandworms from the classic sci-fi novel Dune.
The release of strykewyrms was hinted at by the Twitter hint, "Three strykes and they're out" and the Chaos Elemental hint in the Postbag From the Hedge a few weeks earlier.
Desert strykewyrms, along with the rest of the strykewyrms, were the first monsters in RuneScape that made use of Particle Effects.
In October 2010, a graphical glitch caused desert strykewyrms and other strykewyrms to get a stripy, wood-like texture on their armour. This was fixed as of 2 November 2010, although it had reappeared. The glitch was fully fixed on 26 July 2011.
In the lead up to the release of Strykewyrms, the encrypted message from the Chaos Elemental in Postbag from the Hedge contained the phrase 'from beneath you, it devours' - this possibly relates simultaneously to the burrowing nature of the strykewyrms and also that they were slayer-related content. 'From beneath you, it devours' is a recurring phrase in season 7 of Buffy the Vampire Slayer.
If a player runs behind an obstacle just as a strykewyrm burrows into the ground, the strykewyrm will disappear. Although it will seem to respawn normally, it will leave no drops. This will not count towards a kill, and it has not been fixed yet.
Standing next or on your own dwarf multicannon prevents wyrms from using their special attack. This is probably a glitch.
Jungle strykewyrm •
Desert strykewyrm •
Ice strykewyrm(Freezy pet) •

WildyWyrm
Slayer Tower

Crawling Hand • Banshee • Infernal Mage • Bloodveld • Aberrant spectre • Gargoyle • Nechryael • Abyssal demon

Fremennik Slayer Dungeon

Cave crawler • Rockslug • Cockatrice • Pyrefiend • Basilisk • Jelly • Turoth • Kurask • Aquanite

Lumbridge Swamp Caves
Poison Waste Slayer Dungeon
Pollnivneach Slayer Dungeon

Banshee (Mighty) • Cave crawler (Monstrous) • Basilisk (boss) • Turoth (Mightiest and Swarming turoth) • Kurask (overlord) • Aberrant spectre

Meiyerditch Dungeon
God Wars Dungeon

Pyrefiend • Bloodveld • Spiritual ranger • Spiritual warrior • Spiritual mage

Jadinko Lair

Mutated jadinko baby • Mutated jadinko guard • Mutated jadinko male

Polypore Dungeon

Grifolaroo • Grifolapine • Ganodermic runt • Ganodermic beast

Daemonheim

Crawling hand • Cave crawler • Cave slime • Pyrefiend • Night spider • Jelly • Spiritual guardian • Seeker • Nechryael • Edimmu • Soulgazer

Others

Gelatinous Abomination • Desert Lizard • Mogre • Harpie Bug Swarm • Killerwatt • Molanisk • Terror dog • Brine rat • Fever spider • Mutated zygomite • Cave horror • 'Rum'-pumped crab • Dust devil • Skeletal Wyvern • Jungle strykewyrm • Desert strykewyrm • Dark beast • Ice strykewyrm

Specials

Bork • Skeletal horror • Phoenix • Jade vine(wild)

Slayer pets

| | |
| --- | --- |
| Soul Wars | Creeping hand • Minitrice • Baby basilisk • Baby kurask • Abyssal minion • TzRek-Jad |
| Social Slayer | |
| Other | Cresbot |