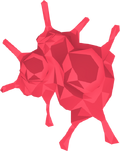 Demonic trace was found from defeating ghosts in the 2014 Hallowe'en event after banishing them, or from reward chests. Five of them could be used to summon demonic ghosts, which gave greater rewards when killed.
NPCs
Items
Rewards
Location
Music
Ad blocker interference detected!
Wikia is a free-to-use site that makes money from advertising. We have a modified experience for viewers using ad blockers

Wikia is not accessible if you've made further modifications. Remove the custom ad blocker rule(s) and the page will load as expected.