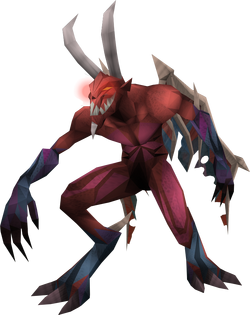 Demons
are a class of creature including a number of very similar
races
; many are characterised by a mix of human- and beast-like features, often in hellish black or red colours.
Demons usually come from other realms, such as the Infernal Dimensions and Abyss and most are servants of Zamorak. They are generally considered to be fairly strong, except for imps, and have low defence strengths. Most regular demons fight by using melee, but more powerful ones can also use magic. Demons usually fight barehanded, save imps and some of the most powerful demon generals. The ability to slay stronger and stronger demons is often a personal landmark for many players. Demons are especially weak towards ranged but weaker against melee attacks. The magical swords Silverlight and Darklight, imbued by the power of Guthix himself, are enchanted to be especially effective against demons. Holy Water is a powerful ranged weapon against demons, though it isn't often used due to the difficulty inherent in obtaining it and its general uselessness otherwise.
Most players believe that demons ranging from Lesser demons to Black demons have relatively poor drops when killed, so it is not recommended to kill these for any purpose other for than Slayer task or by medium level player seeking combat experience. Other players believe that lesser and greater demons can be profitable if they can be killed quickly and their common 300+ coin weapon drops cashed in with High Level Alchemy, and even a few players can be found training against the powerful black demons. Black demons, Nechryaels and Abyssal demons can be profitable if the player banks their Infernal ashes, since they are a 100% drop and are used for Prayer training. Most players agree that demons known for worthwhile drops are Tormented demons, Abyssal demons, K'ril Tsutsaroth, and Nechryael, although all of these are either hard to kill or require immensely high requirements such as 80+ slayer or completing many quests with very high stats.
Types of Demons
Edit
Notable demons
Edit
Friendly demons
Edit