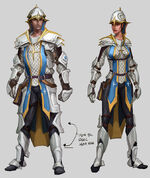 Demon slayer equipment are items that may be obtained as a reward from a Demon Flash Mob and as a drop from Kal'gerion demons. It requires level 60 ranged and 60 defence to wear. The armour is classified as power armour.
Jagex has stated that with the demon slayer equipment you will "get a boost to damage dealt and experience gained while fighting demons for each piece of the gear you equip. A full set of the gear makes the crossbows the same as their dragon equivalents when fighting demons".[1]
Wearing one piece of the demon slayer equipment while killing demons will give 2% more experience in the chosen combat style. Equipping the full set will give a 14% total increase to experience gained.
Additionally, each piece of the demon slayer outfit gives a 4% boost to damage while killing demons. While this applies to every combat style, accuracy issues may prevent their use for anything other than range.
They appear in the Adventurer's Log only if dropped by a Kal'gerion demon.
Exceptions
Edit
References
Edit
Free-to-play
Members

| | |
| --- | --- |
| Tank armour | |
| Power armour | |
| PvP armour | |
Ad blocker interference detected!
Wikia is a free-to-use site that makes money from advertising. We have a modified experience for viewers using ad blockers

Wikia is not accessible if you've made further modifications. Remove the custom ad blocker rule(s) and the page will load as expected.