Demon slayer equipment
Discuss

1
24,283pages
on this wiki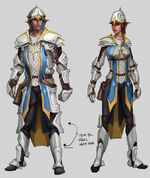 Demon slayer equipment are items that may be obtained as a reward from a Demon Flash Mob. It requires level 60 ranged.
Jagex indicated with the demon slayer equipment you will "get a boost to damage dealt and experience gained while fighting demons for each piece of the gear you equip. A full set of the gear makes the crossbows the same as their dragon equivalents when fighting demons".
Based on killing lesser demons (~346 xp) repeatedly with varying amounts of demon slayer equipment used, it appears that for each piece of equipment, you get roughly 5 extra experience - or 35 with the full set equipped.  (~386 xp).  This amounts to roughly a 10% gain on lesser demons. There is no extra bonus xp for equipping the full set.
Contrary to what some people might believe, Demons do NOT become more or less aggressive when the player is wearing a part of the armour or the full set.
Demon slayer equipment Grand Exchange cost 
Demon slayer circlet
 

1,182,957

[view] 
Demon slayer torso
 

2,633,033

[view] 
Demon slayer skirt
 

1,844,391

[view] 
Demon slayer gloves
 

831,251

[view] 
Demon slayer boots
 

734,304

[view] 
Demon slayer crossbow
 

5,035,794

[view] 
Off-hand demon slayer crossbow
 

2,411,627

[view]
Total
 

14,673,357

coins
[view]
•
[talk]



Item

Mainhand Info

Off-hand Info

Attributes

Critical bonuses

Style

Dmg
Acc

Style

Dmg
Acc
Circlet
N/A
11
0
N/A
5
0
196
600
0
0%
0%
0%
Torso
N/A
20
0
N/A
10
0
226
1200
0
0%
0%
0%
Skirt
N/A
14
0
N/A
7
0
216
900
0
0%
0%
0%
Gloves
N/A
5
0
N/A
2
0
49
150
0
0%
0%
0%
Boots
N/A
5
0
N/A
2
0
49
150
0
0%
0%
0%
Crossbow
Bolts
0
1040
N/A
0
0
0
0
0
0%
0%
0%
Off-hand crossbow
N/A
0
0
Bolts
0
1040
0
0
0
0%
0%
0%
Totals
Bolts
55
1040
Bolts
26
1040
736
3000
0
0%
0%
0%
Weapons
Armour
Headgear

Leather cowl • Focus sight • Coif • Carapace • Snakeskin • Green d'hide • Archer helm • Ranger hat • Robin hood hat • Sacred clay coif • Spined helm • Demon slayer circlet •Blue d'hide • Red d'hide • Black d'hide • Blessed d'hide • Royal d'hide • Third-age • Karil's • Armadyl helmet • Morrigan's (corrupt) • Pernix cowl • Death lotus hood (sup) • Sirenic mask

Body

Leather • Hard leather • Studded(t)(g) • Frog-leather • Carapace • Snakeskin • Green d'hide(t)(g) • Spined • Demon slayer torso •Sacred clay • Blue d'hide(t)(g) • Red d'hide • Black d'hide • Blessed d'hide • Royal d'hide • Third-age • Karil's • Armadyl • Morrigan's (corrupt) • Pernix • Death lotus chestplate (sup) • Sirenic hauberk

Legs

Leather • Studded(t)(g) • Frog-leather • Carapace • Snakeskin • Green d'hide(t)(g) • Spined • Demon slayer skirt • Sacred clay • Blue d'hide(t)(g) • Red d'hide • Black d'hide • Blessed d'hide • Royal d'hide • Third-age • Karil's • Armadyl • Morrigan's (corrupt) • Pernix • Death lotus chaps (sup) • Sirenic chaps

Shields

Leather shield • Hard leather shield • Studded leather shield • Green d'hide shield • Blue d'hide shield • Red d'hide shield • Black d'hide shield • Dragonfire shield (ranged) • Armadyl buckler • Elysian shield • Eagle-eye shield • Vengeful kiteshield

Vambraces

Leather gloves • Leather vambraces (spiky) • Hard leather • Studded leather • Carapace • Snakeskin • Green d'hide (spiky) • Spined • Demon slayer gloves •Blue d'hide (spiky) • Red d'hide (spiky) • Black d'hide (spiky) • Blessed • Third age • Royal d'hide (spiky) • Armadyl • Mercenary's • Swift • Pernix • Tracking gloves

Footwear

Leather • Hard leather • Studded leather • Frog-leather • Carapace • Snakeskin • Ranger boots • Spined boots • Demon slayer boots • Armadyl boots •Pernix boots • Glaiven boots

Cape

Arrowstorm drape • Ava's attractor • Ava's accumulator • Ava's alerter • Max cape • Completionist cape

Neck

Amulet of accuracy • Amulet of power • Amulet of glory • Amulet of fury • Amulet of ranging • Saradomin's murmur