Walkthrough
Edit
| | |
| --- | --- |
| Start point | Captain Rovin, in the north-west tower of Varrock Palace. |
| Member requirement | Members only |
| Official difficulty | Experienced |
| Length | Medium to Long (~47 minutes) |
| Requirements | Quests: |
| Items required | Items from the tool belt are not listed unless they do not work or are not automatically added. |
| Recommended | |
| Enemies to defeat | |
Dismiss any followers now.
Talk to Captain Rovin in Varrock Palace, northwest tower top floor.
Enter the graveyard then talk to Hartwin.
Follow the footprints near the graveyard entrance, searching bushes, trees, stumps, mushrooms, and bones.
The trail eventually leads to Simon near the Chaos Temple.
Run south to the trapdoor, unlock it and climb down.
Undead army
Edit
Run north and look over the balcony.
Run west and take 3 bottles.
Kill 3 Armoured zombies, using your bottles on red mist to fill them.
Proceed deeper into the cave through the door.
Run north and refill your bottles.
Go through the next door and peer over another balcony.
Return to Captain Rovin.
South of Port sarim, ask Thurgo about Shield of Arrav. He gives you a scrap of paper.
If you don't have a blurite ore, now is the opportune time to mine one.
Climb Ice Mountain, west of Edgeville.
Dig with your spade 2 steps east of the White tree.
Excavate the churned-up snow then enter the hole.
Talk to Ramarno.
Use blurite ore on the forge.
Talk to Ramarno for a cutscene.
Zombie invasion
Edit
Return to Captain Rovin, ignoring the zombies. He gives you a restored shield.
Talk to Reldo in the library downstairs about invading zombies.
Read the Varrock Census on the lectern.
Search the scrolls on the floor a few steps south.
Read the list of elders scroll.
Shield of Arrav
Edit
Talk to the following NPCs until one mentions they are not a blood descendant:
Talk to Dimintheis in south-east Varrock where you started Family Crest.
Return to Captain Rovin.
Quest complete!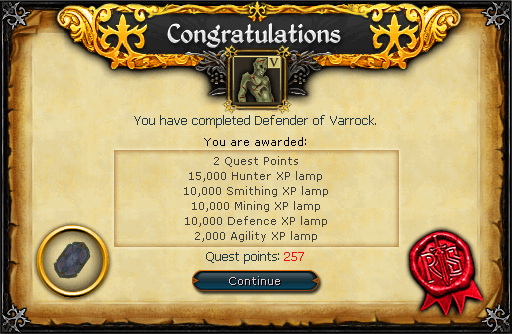 Music unlocked
NPCs
Enemies
Items
Rewards
Locations
Music
Miscellaneous
Ad blocker interference detected!
Wikia is a free-to-use site that makes money from advertising. We have a modified experience for viewers using ad blockers

Wikia is not accessible if you've made further modifications. Remove the custom ad blocker rule(s) and the page will load as expected.