Walkthrough
Edit
| | |
| --- | --- |
| Start point | Talk to Commander Denulth in the camp southeast of the lodestone teleport for Burthorpe. |
| Member requirement | Free to play |
| Official difficulty | Novice |
| Length | Short (~16 minutes) |
| Requirements | None |
| Items required | Items from the tool belt are not listed unless they do not work or are not automatically added. |
| Enemies to defeat | |
Getting Started
Edit
Talk to Commander Denulth who is located southeast of the Burthorpe Lodestone and north of the Heroes' Guild.
The Dwarves
Edit
Items needed: 1 Free inventory space
Head Northwest and through a defensive wall.
Go north-west (past troll invasion) and into a cave.
Talk to Sabbot.
Exit the cave and follow the path to the West.
At the intersection, head West and then go South and into a house.
Talk to Freda.
Boots and Routes
Edit
Items recommended: A weapon
Go to Burthorpe and follow the path East of Burthorpe Castle.
Go North to a row of three houses and talk to Dunstan outside of the middle one.
Bring the re-spiked boots back to Freda.
Read the Survey that is received.
Go back to Sabbot's cave and mine the wall West of him.
Proceed through the cavern's obstacles and climb the cliffside at the end.

There are two cliffsides in the cavern. Climbing the first one seen just leads to a dead end.

The Map will approach the player.
Kill The Map.
Home Teleport to Burthorpe.
Finishing Up
Edit
Talk to Commander Denulth.
Watch or skip the cut scene
Quest complete!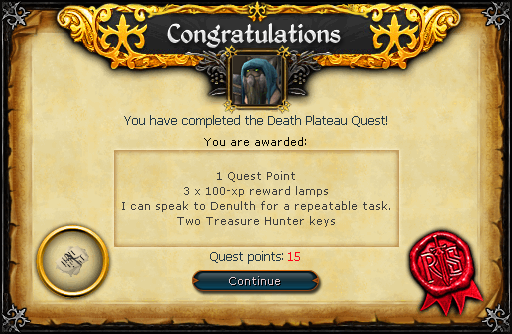 Additional rewards/activities
A repeatable task is unlocked where the player can complete up to five supply runs, taking a crate of supplies from Denulth to the Ambush Commander. Each trip improves the armoury inside the cave, and earns the player 3x 180

experience reward lamps.
After finishing fifth run, this activity is no longer available. These do not have to be done to start Troll Stronghold. A quick method to complete the trips is to instead run past the thrower trolls, up onto Death Plateau, then climb the rocks on the eastern side. Completing all five runs is a requirement for the master quest cape.

Music unlocked
Ad blocker interference detected!
Wikia is a free-to-use site that makes money from advertising. We have a modified experience for viewers using ad blockers

Wikia is not accessible if you've made further modifications. Remove the custom ad blocker rule(s) and the page will load as expected.