Death Lotus Training
Release date
13 August 2015 (Update)
Area
Gielinor
Members
Yes
Reward
Cash bags, Fallen star, Lamp and Cosmetic overrides
Lamp rewards
Huge
Taskmasters
Ninja Master

Levels required
Total level: 641
 —
 70
 —
 70
 75
 83
 —
 50
 —
 70
 75
 —
 —
 84
 —
 33
 —
 —
 —
 —
 —
 —
 31
 —
 —
 —
 —

50

—
—
[view] • [talk]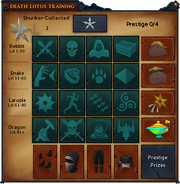 Death Lotus Training is a Treasure Hunter promotion from 13 August to 19 August 2015. During this event players can complete various challenges and tasks which can be checked using the Death Lotus training scroll, automatically given to each member who plays Treasure Hunter during the promotion. This does not include any Ironman accounts. The scroll can be completed multiple times for different rewards.
Tasks may be skipped through the use of shuriken stamps, which can be won from Treasure Hunter, or received from a Ninja Master.
Kebbit Tasks (1-30)
Edit
| Task | Notes |
| --- | --- |
| Kill 10 enemies with throwing knives | |
| Kill an enemy of at least your combat level | |
| Find and talk to the Ninja Master | The Death Lotus training scroll must be in a player's inventory when talking to the Ninja Master for the task to be counted. (If this task is completed, you can NOT get any more Shuriken stamps from the Ninja Master until you start another prestige level) |
| Open the chest at the end of The Pit | |
Snake Tasks (31-60)
Edit
Task
Notes
Pick up 15 items with telegrab
Solo a medium Dungeoneering floor (or hard mode floor) on complexity level 6
Successfully trap 30 creatures with a pitfall trap

Requires 31 , can be boosted

Complete 10 rounds of Pyramid Plunder

Requires 21 , cannot be boosted
Leaving Pyramid Plunder by using the door or any means of teleportation does NOT count for the task.
Getting kicked out for finding a Pharaoh's sceptre or a Sceptre of the gods will NOT count for the task.
Getting kicked out from Pyramid Plunder after 5-min timer expires is the only way to progress for the task, regardless of which room you were in (even staying in room 1).
Larupia Tasks (61-80)
Edit
Dragon Tasks (81+)
Edit
Rewards from completing columns of the scroll include:
Completing the training scroll multiple times awards red, black and blue belt cosmetic variants of the outfit, as well as:
Completing the scroll four times awards the Meditation rest animation.
The scroll is only given to members, but it is possible to complete some tasks on a free world. While the Death Lotus disciple outfit is members only, the prestige prizes are free-to-play. However, most tasks cannot be done on free worlds and shuriken stamps are members only.
Outfit
Cosmetic overrides
Other
Treasure Hunter prestige list events