Talon beast
Discuss

4
22,529pages
on this wiki
Talon beast
Level
77
Duration (

min

)
49
Points cost
9
Race
Nail beast
Abilities
Hits 3 times in one attack similar to a nail beast.
Special moves
Deadly Claw
Combat level
120
Examine text
If a normal black cat is bad luck, what happens if this crosses your path?

Combat stats
Life Points
Max hit
3850
80 damage per hit for a maximum of 240 damage per attack (it hits 3 times in one attack)
Attack
Defence
Ranged
Magic
60
60
60
60
Immune to poison?
Yes
Attack Style
Melee (Strength)
[view] • [talk]

Talon beasts are level 77 Summoning familiars, introduced with the Summoning 2 update on 31 March 2008. These beasts have similarities with Nail beasts, in that they look similar, attack with a loud screeching sound, and belong to the feline family. Like the Nail Beast, it hits three times in one attack. Each of these hits can hit up to 80 for a maximum hit of 240.
Talon beast pouch
Edit
Talon beast pouch is made by using a Summoning pouch on a Summoning obelisk with 174 spirit shards, a Crimson charm and a talon beast charm in the inventory. Making the pouch earns 1,015.2 experience points. Using the pouch to summon a Talon beast gains 3.8 experience points, and costs 9 Summoning points. This familiar currently earns the highest experience for making its pouch.
Deadly claw scroll
Edit
Deadly claw scroll enables the use of the Deadly Claw special move for a Talon beast. Using the pouch on a Summoning obelisk creates 10 scrolls.
Deadly Claw
Edit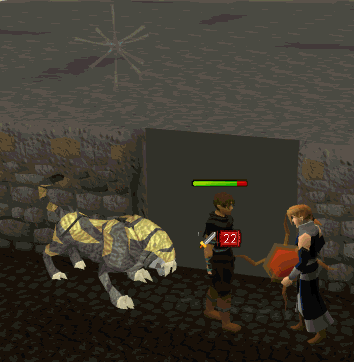 Deadly Claw is the special move for the talon beast, which is a magical attack that hits 3 times. It is similar to its normal attack, but may hit higher (80 per hit, adding up to a max of 240) and will also hit more often through metal armour.
The special move costs 6 special points.
Its attack is like darts, and along with a helmet, scrolls can produce very rapid attacks.
Gold charm

Spirit wolf • Dreadfowl • Spirit spider • Thorny snail • Granite crab • Spirit mosquito • Bull ant • Spirit terrorbird • Barker toad • War tortoise • Arctic bear

Green charm

Desert wyrm • Compost mound • Beaver • Void ravager • Macaw • Spirit cockatrice • Spirit guthatrice • Spirit saratrice • Spirit zamatrice • Spirit pengatrice • Spirit coraxatrice • Spirit vulatrice • Magpie • Abyssal parasite • Ibis • Abyssal lurker • Bunyip • Fruit bat • Forge regent • Giant ent • Hydra • Unicorn stallion • Abyssal titan

Crimson charm

Spirit scorpion • Spirit Tz-Kih • Vampyre bat • Honey badger • Evil turnip • Pyrelord • Bloated leech • Smoke devil • Spirit cobra • Stranger plant • Ravenous locust • Phoenix • Granite lobster • Praying mantis • Talon beast • Spirit dagannoth • Swamp titan • Wolpertinger • Iron titan • Pack yak • Steel titan

Blue charm

Albino rat • Spirit kalphite • Giant chinchompa • Void shifter • Void spinner • Void torcher • Bronze minotaur • Iron minotaur • Spirit jelly • Steel minotaur • Spirit graahk • Spirit kyatt • Spirit larupia • Karamthulhu overlord • Mithril minotaur • Obsidian golem • Adamant minotaur • Fire titan • Ice titan • Moss titan • Lava titan • Rune minotaur • Geyser titan

Other

See also: Summoning • Beast of Burden • Forager • Charms • Summoning Obelisks • Summoning pets • Summoning pouches • Summoning scrolls • Wishing well • Dungeoneering familiars