Walkthrough
Edit
Getting Started
Edit
Preparing a Hunt
Edit
East outside the guild, near the anvil building, talk to Linza.
Take the harpoon to Jones.
Go to the Tower of Life south of Ardougne. (Fairy ring DJP)
Talk to 'The Guns'.
Talk to Bonafido for builder's tea.
East of the tower, pick the southernmost of the 3 lowland heather bunch.
Use the heather on the tea.
Talk to 'The Guns'.
Fish Finding
Edit
Talk to Jones.
Track the Thalassus via the wreckage.
The Mermaids
Edit
Talk to the group of mermaids.
Rescuing Jones
Edit
Track the Thalassus again.
Talk to Jones.
Talk to Linza.
Talk to Jones.
Quest complete!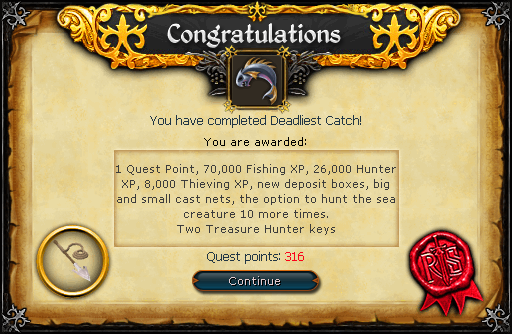 Music unlocked
Ad blocker interference detected!
Wikia is a free-to-use site that makes money from advertising. We have a modified experience for viewers using ad blockers

Wikia is not accessible if you've made further modifications. Remove the custom ad blocker rule(s) and the page will load as expected.