Davon is an NPC found standing along the southern shore of Brimhaven towards the fence. He runs Davon's Amulet Store - apparently out of his pockets (in true underworld style), because he has neither a building nor a stall.
Davon's Amulet Store
Edit
He buys Amulets of Magic, Defence, Strength and Power, as well as Holy Symbols of Saradomin. As with all merchants, the more he has of that item in his own inventory, the less he will offer - roughly 2.3% times the number in inventory less - for the player's item, so selling large quantities to him is not recommended. He used to offer more to players wearing Karamja gloves, but no longer does so. He has no inventory of his own to sell.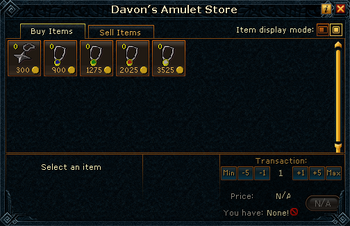 It is said that Davon used to buy amulets for more than their price in the Grand Exchange, but this is not possible anymore.
He appears to be wearing a gold amulet and a ghostspeak amulet at the same time. This is impossible for a player to do.