Dark beasts are Slayer monsters requiring 90 Slayer to kill. They can attack with both melee and magic depending on their target's distance to them. They use melee attacks if their target is within melee distance, otherwise they will always use magic attacks. Dark beasts are weak to bolts, making Ranged a recommended way to kill them with lower tier equipment, but with decent equipment Magic and Melee work just as fine.
Soul Split along with Turmoil, Torment or Anguish can completely negate the need of any kind of healing. If these cannot be used, Protect from Magic or Deflect Magic can help to negate some of the damage dark beasts deal, the latter also reflecting some of it back at them. Since dark beasts drop Big bones, wearing Demon horn necklace or its equivalents in conjunction with Bonecrusher will restore Prayer Points, allowing Prayers to be used indefinitely while killing them.
Tirannwn quiver 4 provides a +5% damage boost against dark Beasts, making it recommended to wear while killing them even if not using Ranged.
Recommended equipment
Edit
With higher tier gear, Magic is the recommended way to kill dark beasts because of its higher amount of AoE abilities compared to Ranged and Melee. Long reach of Magic attacks also reduces the need of moving, allowing more kills per hour.
Ranged is an easy way to kill dark beasts due to their weakness to Bolts and the fact Ranged armour provides good defence against their magic attacks. Long reach of Ranged attacks also helps to get more kills per hour.
Melee is also a viable way to kill dark beasts, however due to the shorter range of Melee weaponry this may lead to lower amount of kills per hour unless using a weapon with longer reach like noxious scythe combined with AoE abilities. They are also relatively strong against Melee, so accuracy may be an issue with lower tier weaponry.
Locations
Edit
Dark beasts are found in three locations:
Dark beasts in Mourner tunnels are numerous, and are found throughout the tunnels. Oldak coil or dwarven multicannon can be set up here unlike Kuradal's Dungeon, making this a preferred place for those wishing to use it.
Players can enter through the mourner headquarters, or enter the Death Altar (via Abyss, Underground Pass or Wicked hood) and leave the Temple of Light. If you wish to return this way, ensure that the beam is aimed at the triple barrier, or you will need to go through the other side and set the beam back.
With Within the Light completed, you can use a crystal seed to teleport outside the Temple of Light. With Plague's End completed, you do not need to bring mourner gear; simply grab the new key from the head mourner's desk and use it on the door.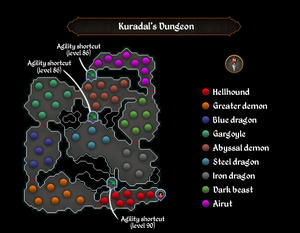 The dark beasts in Kuradal's dungeon can only be killed while having them as a Slayer assignment. There are six of them in a small room, making it a very convenient place to kill them for those looking to finish their Slayer assignments quickly. Like with all Slayer monsters in the dungeon, Ferocious ring will provide a 4% damage boost against dark beasts here.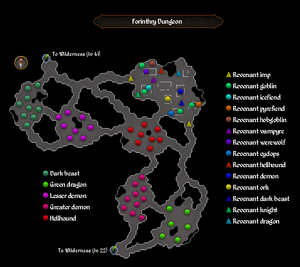 There are nine dark beasts in Forinthry dungeon which are relatively clumped compared to the other two locations. However, the dungeon is in the Wilderness (around levels 28-31 Wilderness), so be aware of your surroundings and have a quick teleport on hand to escape if needed. Bring a shield and pick up every drop you get, as leaving items on the ground can alert other players to your presence in the area.
A bank is relatively close to the dungeon; the merchants Sam and Edmond are the closest to the dungeon. However, it is best to use Sam to rebank and restock on supplies if needed, since Edmond has a large wandering range compared to Sam.