Dark beast/Strategies
Discuss

0
22,486pages
on this wiki
"
Dark beasts are large, dog-like predators with massively muscled bodies that protect them from crushing weapons. I've managed to trap a few in the dungeon I'm guarding.
"
 

— Kuradal
Dark beasts are not aggressive. If a player attacks them with melee, they'll attack with melee too, even if the player runs behind any obstacle/monster (out of the attack range of the beast) and comes back. If the player use range/magic at long-range, Dark beasts will attack with magic.
The melee attack of dark beasts is accurate and hits moderately high, which means even well-armoured players will frequently take damage. Many players believe this makes it impractical to take food, use self-healing items like Guthan's set, or use most Summoning familiars like Bunyips. Instead, protection Prayers are recommended: either the Protect from Melee prayer or the Deflect Melee curse. Deflect Melee has an advantage in that some of the damage the dark beast would have inflicted is deflected back on the beast itself BUT keep in mind that if you are out of the melee range while attacking them, they will use magic, so if you range them, using Protect/Deflect Magic is highly recommended.
Dark beasts are quite large and cannot fit into several places along the edges of the tunnels, making these places safe spots for players using ranged or magic. While the beast will use magic attacks against players in safe spots, it is recommended that the player use Protect/Deflect Magic.
The best weapons to kill them are crossbow 
Recommended equipment when using a protection prayer
Edit
An alternate but somewhat risky method is to use prayer flashing. This method uses virtually no prayer points if implemented correctly. It is recommended to set protect from melee to your quick prayer and allow the beasts to initiate combat, as they will only use melee if they initiate combat. Since the Runetek 5 update, the method for prayer flashing has changed. To use this method, turn on your protection prayer before the enemy attacks, and turn it off the instant they attack. Using a weapon with the same attack speed as your enemy will help you time your flashes. This is risky, because if you get "off beat", your enemy can deliver unexpected damage, so it is best to wear good armour and bring a bit of food. However, if used properly, prayer flashing will eliminate the need to buy/bank for food on slayer tasks, and can extend your trips by literally hundreds of kills.
Melee using Guthan's set
Edit
With Guthan's set and other healing gear and familiars, it is possible if care is taken to melee dark beasts without using prayer constantly. The danger as always is that a string of successive dark beast hits can cause a lot of damage, faster than Guthan's can heal it. It is best to have high Defence and Constitution (80-85 or more recommended), use at least a Bunyip as a healing familiar, and boost combat stats using Super/Extreme sets.
The key to this strategy is to watch lifepoints carefully. When they fall to about two-thirds normal level, the player should use healing gear. If they fall to about the ¼ or less, the player should take special measures. One measure is to bring 4-6 pieces of high-healing food (the fish who will heal you the maximum it can, depending of your Constitution level) and eat a piece when at low lifepoints.
This strategy works if the player will collect and bank the more-valuable drops from the dark beasts.
Recommended equipment
Ranged is best choice to killing them very fast and somewhat, easily. A crossbow/two-handed crossbow is recommended.
Recommended equipment
Other notes
Edit
Recommended inventory:
Many Prayer potions if using a protection prayer strategy.
Food or other healing abilities and Super defence potions if not using protection prayers.
Super attack and Super strength potions if attacking the beasts with melee.
A teleport ability that is worn or takes up no more than one inventory slot, for fast banking. If the player's strategy risks taking damage, this teleport should also be single-click for use in emergencies.
Players who have done Within the Light or Nomad's Requiem and wish to use protection prayers without having to use expensive prayer potions can do the following: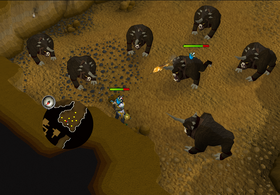 Tiny elf crystals are a fairly frequent drop by Elf warriors, so players can readily obtain them and have Eluned charge quite cheaply (only 150 coins on the 5th and subsequent charging). Even a single dark beast drop is often worth more than this, making this method extremely economical.
Note that the Kandarin Monastery teleport of the Ardougne cloak 3 is 1-click, making it an emergency teleport as well as for fast praying and banking.
An alternate, efficient method is to wear a demonhorn necklace, to carry a bonecrusher in inventory, and to pray soul split.  With high-end ranged gear (armadyl, death lotus, or pernix, with dual chaotic crossbow or royal crossbow), this set up will not require any food or prayer potions.  If healing is necessary (e.g. by using lower end ranged gear), the player may use the regenerate ability and/or pick up some of the sharks droped by the dark beasts.  If the player wants to speed up kills by using the Anguish curse, then he may need to bring some prayer potions.
Dark beasts are not found in Multicombat areas, so combat-capable Summoning familiars cannot fight them. Other familiars, however, can be useful. Healing familiars can be used, as discussed above. Beast of Burden familiars can be used to help carry the drops. Since dark beasts drop a fair amount of Herbs, one quite useful familiar is the Macaw, which increases the chance that a herb drop will be a more-valuable herb. Using a Ghast familiar with ghastly request scrolls allows the player to restore prayer at a rate of 100 prayer points per scroll.
The attack speed of a Dark Beast is variable. It depends on its distance and angle from its attacker. The slowest attack speed is at the nearest distance and at a 1:1 angle and increasing as the distance increases or the angle decreases. A temporary retreat by the slayer can cause the beast to advance to a slower attack position from a safe spot.