Dark Wizard Elijah is a dark wizard working alongside Boric to sabotage Doric.[1] He cursed Doric's ore supplies, enchanting certain rocks to summon living rock brawlers when mined.[2] He used the living rock creatures in the Living Rock Caverns as inspiration for his magic.[3] Boric grew uneasy with the level of violence Elijah was creating and cut ties with Elijah, though Elijah continued to curse the ore supplies in an attempt to refine the spell.[4]
He has a diary which is dropped by the living rock brawler summoned at the south-east Varrock mining site.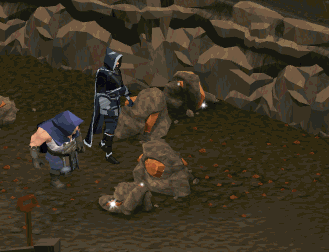 References
Edit
Ad blocker interference detected!
Wikia is a free-to-use site that makes money from advertising. We have a modified experience for viewers using ad blockers

Wikia is not accessible if you've made further modifications. Remove the custom ad blocker rule(s) and the page will load as expected.