Dance is a popular emote. It is automatically awarded to a character when they create an account. The enhanced version, unlocked by wearing Flared trousers, features the player "disco dancing", and then doing a split on the ground.
The old dance emote can be accessed by talking to Brother Omad in the Monastery South of Ardougne. The updated dance has a passing resemblance of that made famous by the "Where the Hell is Matt" viral videos.
You can also see the old dance emote while doing the quest Ghosts Ahoy. When the Old Crone enchants your Ghostspeak amulet, she does the old dance emote.
A while ago, the Dance emote was actually used by some players to get money, as they would say "Dancing for money!". With the reintroduction of free trade this re-emerged as a way that poor players try to get money.
Along with the Jig, Twirl and Headbang emotes, the person of the image is wearing a recoloured version of the Silly jester costume.
Before the graphical update, the dance emote consisted of a player standing on one leg and waving their arms and free leg wildly at the elbow and knee joints, before alternating legs and repeating the process. The newer emote retains the same structure as the older one, however, the character is faster and far more animated.
The emote icon shows the old dance emote instead of the new one.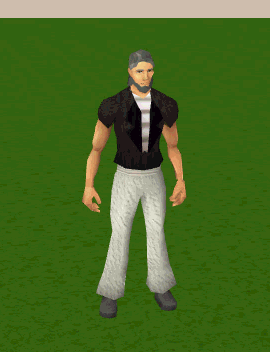 Emotes or categories marked with an (m) are members-only emotes but can also be used on free worlds if previously unlocked.