Daemonheim Peninsula resource dungeon
Discuss

7
22,528pages
on this wiki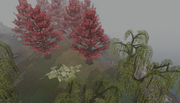 The Daemonheim Peninsula resource dungeon was released on 19 July 2010. This island was part of an expansion set for the Dungeoneering skill, the resource dungeons. Entering this island for the first time will earn the player 2400 Dungeoneering experience, but no tokens. Any player with at least level 30 Dungeoneering may enter this dungeon.
It is located south-east of Daemonheim. To reach the island, follow the water edge, south, from the boat to Al Kharid until a dead end is reached. The dungeon door to the island should be there.
The island includes 9 maple trees and 6 willow trees.
This is a great place to train Woodcutting and Firemaking at the same time. It is usually much less crowded, making it more ideal for training than spots such as the one in Draynor Village, with a higher concentration of either type of trees than anywhere else. Players can cut and burn the logs on the island for fast experience.
There are 2 banks relatively near, but Seers' Village's bank is closer to its maple trees, and Draynor Village is closer to its willow trees.
One can take the boat to Al Kharid, bank, then return via boat, or use the ring of kinship to teleport to the bank on Daemonheim then run back.
It is technically impossible to have exactly level 30 Dungeoneering on the island as entering it gives more than enough experience to reach level 31 Dungeoneering.