The Customs Sergeant is located in Rimmington in the Customs Office at the south end of the town. He asks members a few trick questions, and "arrests" the player if they get all the questions right. Free players will find him asleep.
The Customs Office where he resides covered up three of the eight willow trees originally south of Rimmington.
There used to be a level 1 Invisible player in the room marked by a yellow dot on the minimap. The "player" could be examined saying: "Invisible Player". This has since been removed.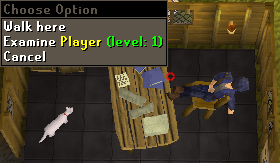 Part 5 of the Pirate quest series
NPCs
Enemies
Items

Braindeath's task
Bill Teach's task
Brass Hand Harry's task
Frank's task
Izzy's task
Obtainable after quest

Locations
Music
Miscellaneous
Ad blocker interference detected!
Wikia is a free-to-use site that makes money from advertising. We have a modified experience for viewers using ad blockers

Wikia is not accessible if you've made further modifications. Remove the custom ad blocker rule(s) and the page will load as expected.