Customs Sergeant
Discuss

3
22,530pages
on this wiki

The Customs Sergeant is located in Rimmington in the Customs Office at the south end of the town. He asks members a few trick questions, and "arrests" the player if they get all the questions right. Free players will find him asleep.
The Customs Office where he resides covered up three of the eight willow trees originally south of Rimmington.
There was a level 1 Invisible player in the room marked by a yellow dot on the minimap, but was removed. The player could be examined when the mouse hovers approximately in between the two blue books on the desk when facing north. However, the spot to aim for is actually on the floor and more easily found by facing the camera direction south. The examine text reads simply, "Invisible Player." This may have been implemented to give the Customs Sergeant a yellow dot, as strictly speaking, he's actually an object (his name is in blue text). Now that the player has been removed, he somehow still has that yellow dot.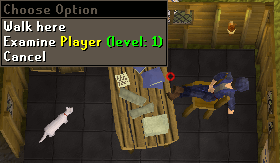 There is a clue scroll on the sergeant's table.
The building in which he sleeps in used to not have a yellow dot to mark his position, as he cannot be interacted with, but Jagex has fixed this.