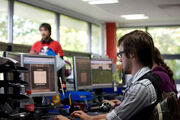 Customer Support is the division of Jagex staff that interacts with players. The team is lead by Mod Kelvin, the head of Customer Support, who is supported by a team of three service managers and 35 support specialists. A number of the support team have their own @Jagex Twitter accounts and occasionally appear on RuneScape livestreams and podcasts.
The team are responsible for handling in-game abuse reports, offence appeals, processing account recovery requests, and maintaining the Rules of RuneScape, as well as working alongside the QA team to investigate bug reports.
The team are also responsible for responding to support tickets, monitoring social media, and passing on player feedback and comments. The team run initiatives regarding account security, phishing scams, computer security and more.
External links
Edit