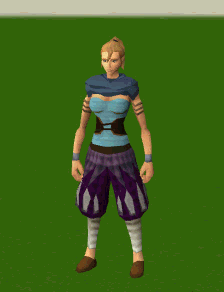 Curtsy is an emote that was introduced on 7 October 2009. This is one of the starting emotes and is available after the player unlocks emotes during the tutorial.
It is the default Bow option for female characters and the right-click option for male characters.
In the Circus, Bow and Curtsy count as the same emote.
If a Treasure Trail emote clue said to bow, it didn't matter if a player bowed or curtsied, since they count as the same emote. However, thanks to an update, clue scrolls will say "bow or curtsy" to combat this confusion.

Explore

Goblin Bow
(m)

Goblin Salute
(m)

Troubadour Dance
(m)

Cape
(m)
Air Guitar
(m)

Taskmaster
(m)

Demonic Rock Off
(m)

Pulled Away
(m)

Hefin Lotus
(m)

Hefin Bow
(m)

Hefin Ward
(m)

Hefin Crane
(m)
Emotes or categories marked with an (m) are members-only emotes but can also be used on free worlds if previously unlocked.
Ad blocker interference detected!
Wikia is a free-to-use site that makes money from advertising. We have a modified experience for viewers using ad blockers

Wikia is not accessible if you've made further modifications. Remove the custom ad blocker rule(s) and the page will load as expected.