The Crystal peacock is a pet given to players who have redeemed a RuneScape Membership Card in August 2016 or is a Premier Club member. The concept was one of six finalists in the 2014 Design a Pet competition[1] and was designed by Pawl. It was released on 1 August 2016.
This pet has a special emote - in which it opens up its feathers - that can be performed by interacting with it.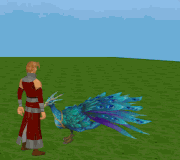 References
Edit
Ad blocker interference detected!
Wikia is a free-to-use site that makes money from advertising. We have a modified experience for viewers using ad blockers

Wikia is not accessible if you've made further modifications. Remove the custom ad blocker rule(s) and the page will load as expected.