Crystal chime
Discuss

7
22,528pages
on this wiki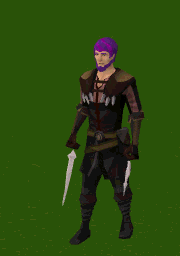 The Crystal chime is obtained during The Path of Glouphrie quest by using a Crystal saw or Small crystal seed on the Singing bowl that is located in Yewnock's cave in the Gnome Village Dungeon (not the Singing bowl in Brimstail's cave). Using the saw on the bowl changes the saw into a small crystal seed.
To change a small crystal seed back to a crystal saw, go to Brimstail's cave in the Tree Gnome Stronghold and use it on the fountain in the western room.
Crystal chimes are needed to attack the Warped terrorbird and the Warped tortoise, which are Slayer monsters. Due to an update on 3 March 2010, you no longer need to use your chimes on the Tortoise/Terrorbird in order to cleanse it. You can simply click attack and the chimes will automatically activate, cleansing the creature.
Upon dying, your crystal chime will be destroyed and you will have to replace it by getting another crystal seed from Brimstail, then transforming it in Yewnock's cave.
Trivia
Upon using the chime whilst fighting against a Warped terrorbird or Warped tortoise, your character will stop fighting upon the first hit. The only way to block this is to click on the monster you are attacking again or turn on auto-retaliate. This might be a glitch.
See also
Equipment from Slayer Masters

Broad arrows • Earmuffs • Face mask • Insulated boots • Leaf-bladed spear • Nose peg • Mirror shield • Slayer gloves • Slayer's staff • Spiked gauntlets • Spiny helmet • Unlit bug lantern • Witchwood icon

Items from Slayer Masters

Bag of salt • Enchanted gem • Fishing explosive • Fungicide spray • Fungicide • Rock hammer • Ice cooler • Slayer bell • Broad arrow heads • Unfinished broad bolts

Purchased with Slayer reward points
Quest-related items

Masked earmuffs • Super fishing explosive • Crystal chime

Slayer masks and helms

Mask of Broken Fingers Helm of the Dead Hand • Mask of Stone Helm of Petrification • Mask of Reflection Helm of Little Kings • Mask of the Kura Helm of the Kuraski • Mask of the Abyss Helm of Warping

Others

Black mask • Leaf-bladed sword (offhand) • Spiked helmet • Abyssal whip • Abyssal vine whip • Dark bow • Staff of light • Full slayer helmet • Hexcrest • Focus sight • Whip vine