Granite lobster
Discuss

13
22,528pages
on this wiki
Granite lobster
Level
74
Duration (

min

)
47
Points cost
8
Race
Lobster
Abilities

Forager - Gathers fish while summoner is Fishing
Fishing boost (4) - invisible

Special moves
Crushing claw
Combat level
129
Examine text
Puts the 'crust' in 'crustacean'.

Combat stats
Life Points
Max hit
3700
550+
Attack
Defence
Ranged
Magic
60
60
60
60
Immune to poison?
No
Attack Style
Defence
[view] • [talk]

Granite lobster is a level 74 Summoning familiar. It is summoned using a granite lobster pouch. The granite lobster can be used for the following things:
Combat: It has a combat level of 129 and provides Defence experience when it deals damage. In addition, its scroll, Crushing Claw, may inflict up to 140 life points and temporarily decrease an opponent's Defence by five levels.
Fishing: It increases the player's Fishing level by 4. However, this boost is invisible. As with any invisible boost, it does not grant abilities above the player's level (e.g., the ability to catch new kinds of fish). It does, however, increase the success rate of catching fish. Because of its large invisible boost, the granite lobster is fairly popular among fishermen.
Forager: While the player is fishing, this familiar can produce raw swordfish and raw sharks, even if the player does not have the necessary level to catch these fish. It also gives the player 10% of the experience for catching the foraged items. It can hold up to 30 of its foraged items in its own inventory. It appears to collect the highest quantity of fish if the player is fishing sharks. One granite lobster often generates 3-13 sharks and 3-13 swordfish, giving 11 xp for each shark and 10 xp for each swordfish foraged.
Granite lobster pouch
Edit
A granite lobster pouch is created by using Summoning pouch on a Summoning obelisk with 166 spirit shards, a crimson charm and granite (500g) in the player's inventory. Using the pouch to summon a granite lobster costs 8 Summoning points. Infusing granite lobster pouches is one of the most cost effective ways to 99 Summoning.
Tip
You can split the larger granite pieces at the summoning Obelisk allowing you to make many more pouches per a trip although be careful as 5kg & 2kg pieces will be used to make just 1 pouch instead if you have them in your inventory. The idea is to drop the larger pieces near the Oblisk then pick up & cut what you need into 500 gram pieces to use. This can be done at the Obelisk with Bogrog to swap for shards allowing you to take the shard swap value of the pouches back. (This requires level 78+ Summoning)
Crushing claw scroll
Edit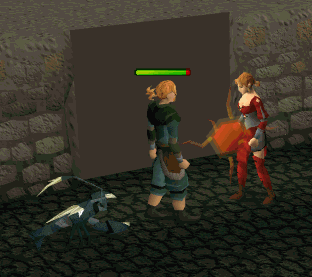 Crushing Claw
Edit
Crushing claw is the special of the granite lobster, activated by a Crushing claw scroll. It may inflict up to 140 life points of magic damage and temporarily decrease an opponent's Defence by five levels.
If your Granite Lobster generates a fish needed for a daily challenge, it counts towards it.
One of the conversations with the granite lobster is a reference to the movie Conan the Barbarian.
As of 3 March 2010, any kind of granite can be used to create a granite lobster pouch. Before this update, only the 500g unit could be used.
At level 78 or above, a player can make over 400 of these pouches in one trip. This can be done by going to Bogrog with 5 kg granite chunks. The player then chisels the granite into pieces, makes pouches, and swap them for shards. It's a good idea to have a Beast of Burden familiar, however, so you can store the larger pieces of granite. Otherwise, they could end up being converted into pouches.
Excess amount of pouches and scrolls obtained through training can easily be redeemed for money. With 78 summoning, players trade in the pouches and scrolls to Bogrog and sell the shards to the pet store owner in Yanille. Players may also sell the pouches and scrolls in the Grand Exchange as they seem to be in high demand.
Gold charm

Spirit wolf • Dreadfowl • Spirit spider • Thorny snail • Granite crab • Spirit mosquito • Bull ant • Spirit terrorbird • Barker toad • War tortoise • Arctic bear

Green charm

Desert wyrm • Compost mound • Beaver • Void ravager • Macaw • Spirit cockatrice • Spirit guthatrice • Spirit saratrice • Spirit zamatrice • Spirit pengatrice • Spirit coraxatrice • Spirit vulatrice • Magpie • Abyssal parasite • Ibis • Abyssal lurker • Bunyip • Fruit bat • Forge regent • Giant ent • Hydra • Unicorn stallion • Abyssal titan

Crimson charm

Spirit scorpion • Spirit Tz-Kih • Vampyre bat • Honey badger • Evil turnip • Pyrelord • Bloated leech • Smoke devil • Spirit cobra • Stranger plant • Ravenous locust • Phoenix • Granite lobster • Praying mantis • Talon beast • Spirit dagannoth • Swamp titan • Wolpertinger • Iron titan • Pack yak • Steel titan

Blue charm

Albino rat • Spirit kalphite • Giant chinchompa • Void shifter • Void spinner • Void torcher • Bronze minotaur • Iron minotaur • Spirit jelly • Steel minotaur • Spirit graahk • Spirit kyatt • Spirit larupia • Karamthulhu overlord • Mithril minotaur • Obsidian golem • Adamant minotaur • Fire titan • Ice titan • Moss titan • Lava titan • Rune minotaur • Geyser titan

Other

See also: Summoning • Beast of Burden • Forager • Charms • Summoning Obelisks • Summoning pets • Summoning pouches • Summoning scrolls • Wishing well • Dungeoneering familiars