Walkthrough
Edit
| | |
| --- | --- |
| Start point | Speak to Leela and Senliten in Senliten's tomb. |
| Member requirement | Members only |
| Official difficulty | Master |
| Official length | Short to Medium |
| Requirements | Menaphos reputation |
| Items required | Items from the tool belt are not listed unless they do not work or are not automatically added. |
| Recommended | |
| Enemies to defeat | |
Finding Crondis
Edit
Speak with Senliten in her tomb.
Talk to the Sphinx in Sophanem with your cat (do not wear a catspeak amulet or cramulet).
Talk to Jex, who is north-east of the Sphinx.
Return to Senliten.
Use Leela to return to the surface.
Explore the temple and head north to the ship to search for the dowsing rod.
Search the desert 3 times with the rod:
Return to Senliten.
Climb the waterfall north of the Dominion Tower and talk to the spirits.
Talk to Portmaster Kags in the Port District of Menaphos.
Enter the Pyramid.
Dealing with Crondis
Edit
Items recommended
: Weight-reducing clothes, and combat gear for fighting
Ukunduka
.
Talk to the High Priest of Crondis (you cannot get the items in advance).
Talk to Crondis. Any chat option, except 1 for all dialogue boxes.
Kill Ukunduka (stay out of melee distance or use Saradomin Brews).
Talk to the High Priest of Crondis.
Return to Senliten.
After the cutscene, speak with Senliten.
Quest complete!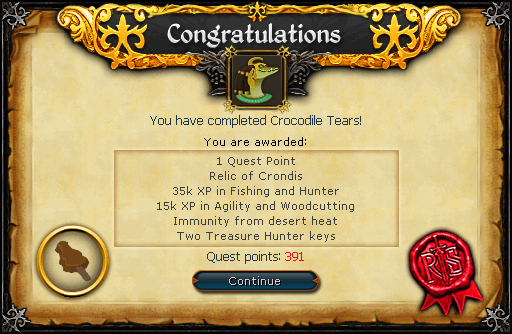 Additional rewards/activities
Access to the Crondis tomb containing:

20,000 experience for entering the tomb for the first time

Music unlocked