The
crate goblin
is a
Dorgeshuun
cave goblin
that lives in the Dorgeshuun capital of
Dorgesh-Kaan
. He can be found wandering many parts of the city, such as the city's marketplace, homes, and shops. About every 2-4 minutes, he arrives at the marketplace to deliver goods.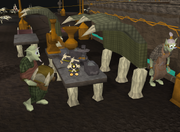 The crate goblin delivers boxes to many different areas of the city, and can be hard to find at times. He/She often changes levels and enters little-known side corridors. The crate goblin will only stop when you talk to him/her, and will not continue to move until the player is 2-5 steps away.
Ad blocker interference detected!
Wikia is a free-to-use site that makes money from advertising. We have a modified experience for viewers using ad blockers

Wikia is not accessible if you've made further modifications. Remove the custom ad blocker rule(s) and the page will load as expected.