Cramulet
Discuss

5
22,486pages
on this wiki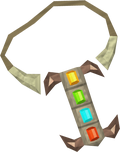 The Cramulet is an amulet made by the player during the Do No Evil quest by combining the Monkeyspeak amulet with the Ghostspeak amulet. It allows the player to speak to the Monkey Ghost during the quest, which otherwise is impossible as the player would need to wear both the monkeyspeak and ghostspeak amulets at the same time.
After the quest, the Cramulet can also be combined with the following amulets:
The Catspeak amulet or Catspeak amulet (e), allowing the player to speak with cats. However, if a catspeak amulet (e) is used, the enchantment is lost, which means the Cramulet cannot be used to locate Bob the Jagex Cat.
The Camulet, allowing the player to speak with camels. The Cramulet retains the Camulet's ability of teleporting to Enakhra's Temple when rubbed and its check-charge ability.
With each new amulet combined in the Cramulet, an extra gem is added.
The Cramulet can be dismantled into its separate amulets by a right-click option and can also be re-assembled by using the amulets on one another. Disassembling a Cramulet produces an unenchanted catspeak amulet, even if a catspeak amulet (e) was used to make the Cramulet.
It is recommended that players be very careful to avoid losing the Cramulet. Although a new one can be assembled, its monkeyspeak amulet component is particularly time-consuming to regain.
Combat Stats

| Class | Slot |
| --- | --- |
| None | |

Weapons
Main
Off
Damage
-
-
Accuracy
-
-
Type
-
-
Attributes
Armour rating

0

Life bonus

+0

Prayer bonus

0

Critical bonuses

0%

0%

0%

Compare item

[view] • [talk]
Different versions
Edit
There are four different versions of the cramulet.
It's possible to make multiple cramulets by collecting each amulet individually. Dropping the ghostspeak at the priest in the swamp south of Lumbridge and saying that the amulet was lost will give you a 2nd amulet (or 3rd, and so on) The same goes with camulet, and m'speak amulet. The catspeak amulet now works like the others. Dropping all cramulets and cat speak amulets will allow you to obtain a new one from the Sphinx and then pick the old ones up from the ground.
The Cramulet retains all its Camulet charges for teleportation. All Camulets also keep their original charge.
Due to the release of the Morytania Tasks, of which one of the rewards is to be able to speak to ghosts without needing a Ghostspeak amulet, the Cramulet became obsolete as you could now do those tasks and just wear a Monkeyspeak amulet to talk to the Monkey ghost. Mod Edam said he would look into it to give it some explanation [1]. According to the Morytania Legs 3 page, the legs will no longer work for the Monkey ghost, and players will still have to make a cramulet.
Unstrung

Gold • Sapphire • Emerald • Ruby • Diamond • Dragonstone • Onyx

Standard

Gold • Sapphire • Emerald • Ruby • Diamond • Dragonstone • Onyx

Enchanted

Magic (t) • Defence • Nature • Strength (t) • Power • Glory (t) • Fury (or)

Translation

Camulet • Catspeak (e) • Ghostspeak • Monkeyspeak (unstrung) • Manspeak • Cramulet

Others

Accuracy • Crone-made • Cat training medal • Desert(1)(2)(3)(4) • Farming • Glarial's • Gnome • Gofannon • Ice • Lunar • Pre-nature • Ranging • Salve (e) • Saradomin's hiss • Saradomin's murmur • Saradomin's whisper • Sköll amulet • Third-age • Yin Yang • Thingy
Head slot

Ram skull helm (e) • Witchdoctor mask • Icicle crown • Sunbeam crown •Wicked hood • Completionist hood • Mask of Broken Fingers • Helm of the Dead Hand • Mask of Stone • Helm of Petrification • Mask of Reflection • Helm of Little Kings • Mask of the Kura • Helm of the Kuraski • Mask of the Abyss • Helm of Warping

Cape slot
Neck slot

Desert amulet 2 3 4 • Games necklace • Digsite pendant • Skills necklace • Amulet of glory (t) Camulet • Cramulet • Amulet of nature • Drakan's medallion • Dominion medallion Super • Seal of passage • Remora's necklace

Mainhand slot

Pharaoh's sceptre • Sceptre of the gods • Skull sceptre • Broomstick • Clan vexillum

Offhand slot

The Book of Char

Leg slot
Hands slot
Ring slot

Explorer's ring 3 4 • Ring of duelling • Ring of Life • Ring of wealth • Ring of kinship • Ferocious ring • Ring of slaying • Jennica's ring • TokKul-Zo • Sixth-Age circuit