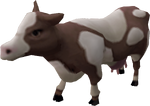 Cows Are Taught To Lie Earthward (C.A.T.T.L.E.) is a workers union of cows.[1] They are concerned about "hide-hoarders" whittling down their numbers, despite their ability to multiply so quickly. With the letter sent to C.A.T.T.L.E. and some moo-tivational speaking, the union, may demand more troughs.
References
Edit
Ad blocker interference detected!
Wikia is a free-to-use site that makes money from advertising. We have a modified experience for viewers using ad blockers

Wikia is not accessible if you've made further modifications. Remove the custom ad blocker rule(s) and the page will load as expected.