Cow


Release date
Unknown edit
Members?
No
Combat level
2, 6
XP per kill
35 (and 11.6 experience)
Slayer level
1
Slayer XP
8
Assigned by
Turael or Spria
Always drops
Bones, raw beef, cowhide
Examine text

Converts grass to beef.
Where beef comes from.
Beefy.

Combat stats
LP
Max hit
50, 150
100
Attack
Defence
Ranged
Magic
Unknown
Unknown
Unknown
Unknown
Other
Immune to Poison?
Immune to Stun?
Yes
No
Attack Speed

Speed 5 (Interval: 3.0 seconds)

Aggressive?
Poisonous?
No
No
Attack style
Weaknesses
Melee

Earth spells
Air spells

[view template]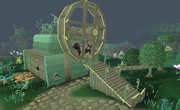 A Cow is a monster new players may find useful to train on. They are one of the first monsters new players can encounter around Lumbridge. Cows will grant 32 experience when killed in combat. Along with cows, players can also find weaker cow calves and non-attackable dairy cows.
In the cow field located north-east of Lumbridge castle, players can easily make money. At current Grand Exchange rates, players can make 501 coins per cow, providing that they sell the Raw Beef, Cowhide, and Bones from a cow, so they would make 1,309 coins per inventory from all drops. However if one only takes the cowhide, one would make 8,876 coins; however, the speed of the inventory filling up is halved.
When a cow dies, it drops raw beef (which gives Cooking experience when cooked), a cowhide (which players can sell for profit or turn into leather items for Crafting experience) and bones (which players can bury for Prayer experience). The vast majority of cows drop nothing beyond bones, raw beef, and cowhide.
Zanaris, a different realm to RuneScape, is the only place with talking cows. The cows of Zanaris seem to dislike the sheep as well as other players, and are apparently unaware of their ability to talk. There is also a windmill that is powered by a cow in lieu of the wind, which technically makes it a "cowmill". Also, when walking around or being attacked, the cow will often say "Moo" as if it had been typed by a player. A cow is also one of the possible NPCs players can talk to using the NPC Contact spell.
Locations
Edit
When the cow says "Moo", the sound of a moo can usually be heard from the speakers; the new sound update has amplified this "Moo".
If you attempt to talk to a cow in Zanaris, it will prompt the message: "Hmm, interesting, there appears to be a human trying to talk to me. Is it aware that cows can't talk I wonder? Maybe if I just ignore it, it might go away."
If you use an item on a cow or calf a message will appear saying "The cow doesn't want that."