A Court summons is an item that is needed for the Court Cases Distraction and Diversion. They can only be obtained if the player does not have an active court case, does not already have a court summons and has completed King's Ransom.
Reading the court summons will inform the player of which case has been assigned to them. Players looking for specific court summons can destroy unwanted summons in order to allow another to drop. This can be useful for players looking for specific rewards, although it may be faster to complete the case, ensuring it doesn't drop again.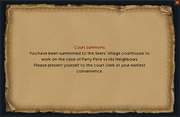 Acquiring
Edit
Court summons can be obtained through a variety of means:
Monster drop
Edit
This list was created dynamically. For help, see the FAQ.
To force an update of this list, click here.
For an exhaustive list of all known sources for this item, see here.
Pickpocketing
Edit
The following table outlines monsters that can yield a court summons if pickpocketed. This is not a complete list.
Recommended methods
Edit
Hill giants can be killed quickly for mid to high level players, and drop court summons relatively often. They have many spawn points to the south of Edgeville dungeon and in the Edgeville Dungeon resource dungeon.
Dwarven instinct aura. Often within an hour one can open 5-6 chests. In that hour, one often contains a court summons (as of the recent update).
Al-Kharid warriors have the most common pickpocket chance. Most players (depending on Thieving level) will obtain a court summons within 5 to 45 minutes of pickpocketing. Remember to equip a bow without arrows or a Sculpting chisel to prevent attacking. One warrior in the east room respawns in a place where he can be trapped to make for faster pickpocketing. Low level players often train on warriors, making it difficult to pickpocket continuously. This problem can be avoided by using the high total level servers.
Warrior women may be a better choice or even Knights of Ardougne because they can be trapped in the nearby houses. (If your thieving level is 70+, it is recommended to pickpocket Knights of Ardougne, you will normally average a court summons around every 6k of gold, or around 120 successful pickpockets, but sometimes it takes much longer.)
Buy caskets from the G.E. You can only buy 100 caskets at a time. Most players will get 1+ court summons out of 100 caskets. This is the fastest method and will only take a few minutes. However, this will cost about 257,400 coins. The inclusion of dragonstone armour as a possible result of opening the crystal chest has greatly increased the value of crystal key halves, which in turn has greatly increased individual casket value as players attempt to obtain key halves from caskets.
Disassembly
Edit